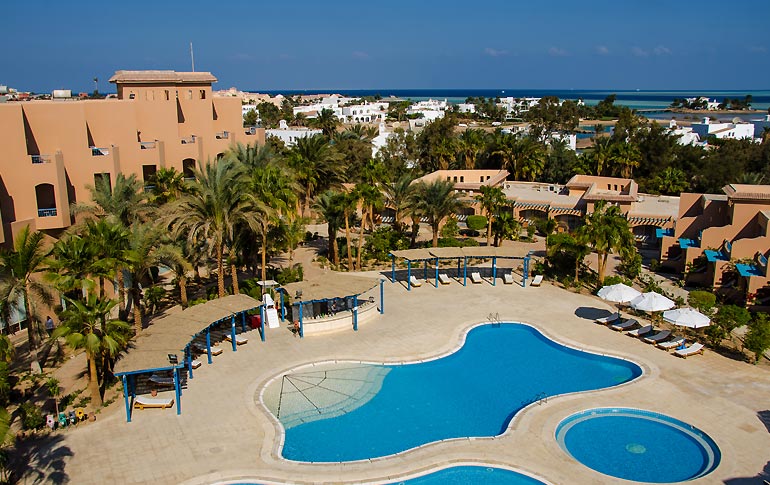 El Gouna holiday island is one of the youngest towns in Egypt and located only 20 kilometers north of Hurghada. With its wide entertainment, sports and shopping activities its considered to be the most attractive holiday area in Egypt.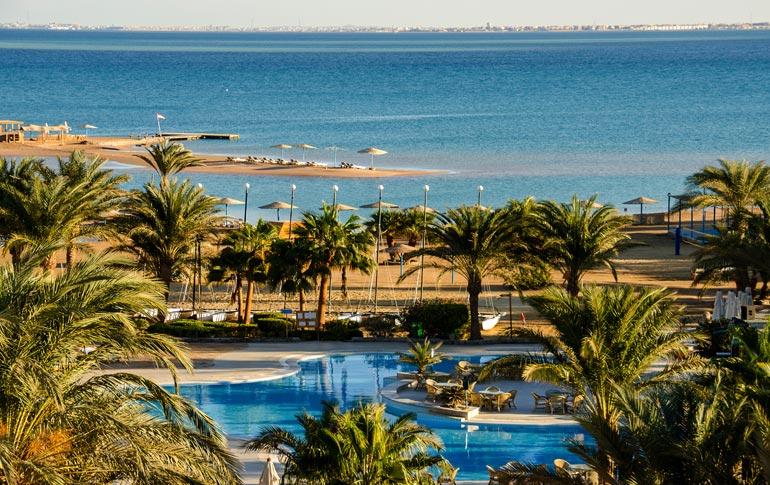 ORCA Dive Club Paradisio
The newest ORCA Dive Club in Egypt is located at the beachfront resort Club Paradisio with all-inclusive program. Our diving center is built at the end of the beautiful bay and only a few steps to reach the speed boat (zodiac) for a half day diving trips.The ORCA Dive Club Paradisio is equipped with 90 12-liter aluminium tanks, two Bauer compressors, a Nitrox filling station and 30 full rental equipment.
For our young divers starting 8 years old we also offer suitable rental equipment.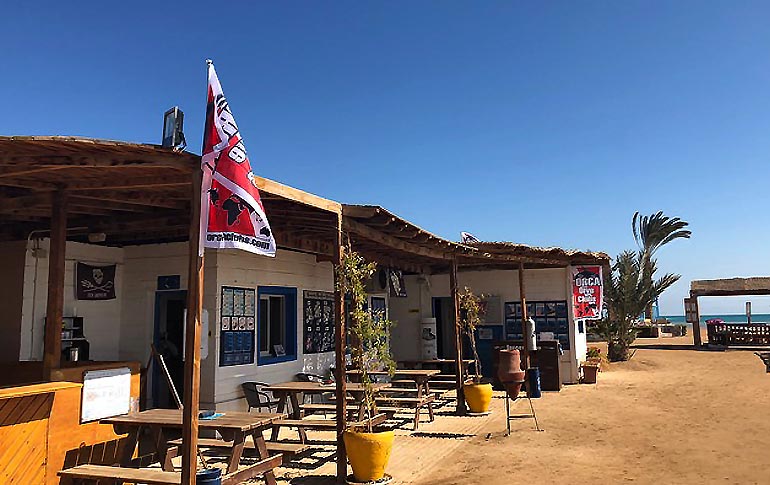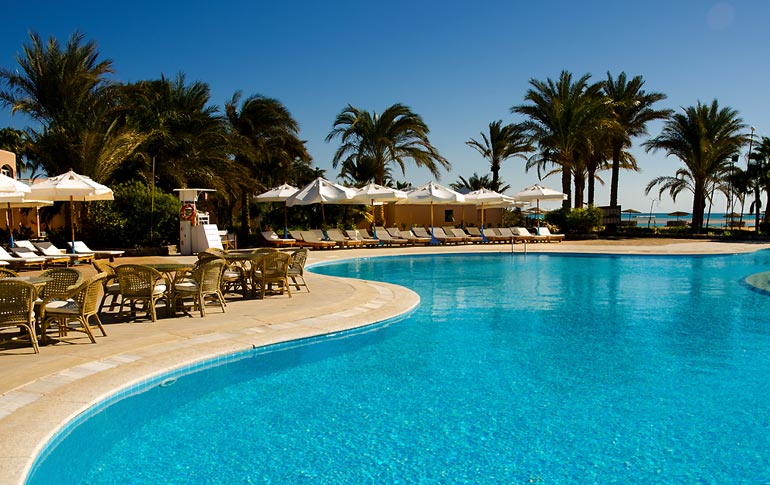 Destinations and boats
As our dive club in Turtles, Orca Dive Club Paradisio is perfectly located to access 60 of the most famous diving destionations in the Red Sea.
Enjoy a varity of trips to some of the most popular wrecks such as "SS Thistlegorm", the 120 metre long Rosalie Moller ; in addition to the four well-known wrecks Ghannis D, Kimon M, Chrisoula K and Carnatic of Abu Nuhus.
In the south, the diving region of the legendary northern areas of Hurghada such as Carless Reef, Umm Gamar and Shaab Rur.
Also Bluff Point or Umm Usk in the northern areas are exclusive for the divers from El Gouna.
A lot of the mentioned dive sites as well as Abu Nuhas can be reached by our speed boat.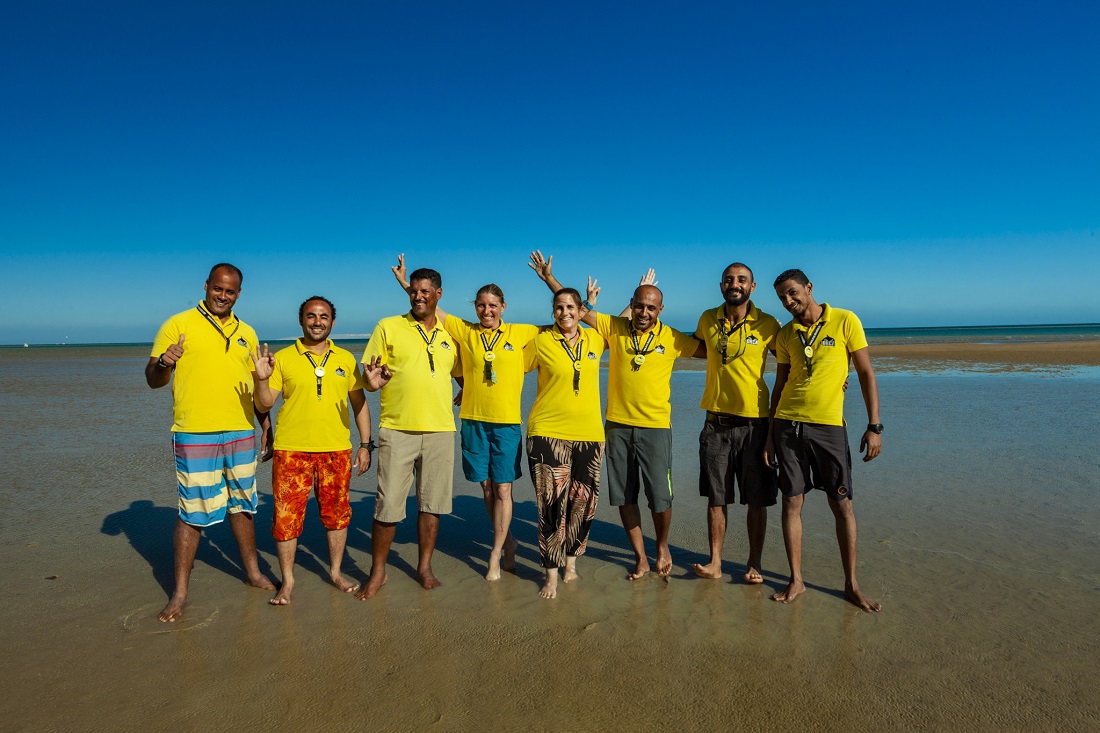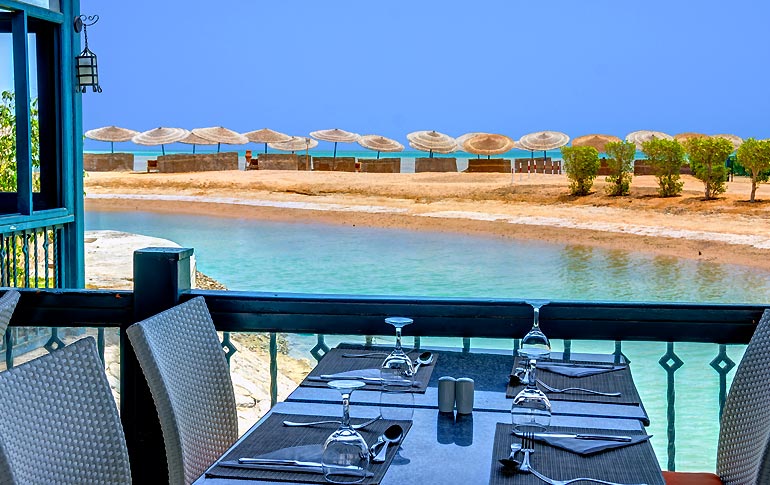 Hotel Club Paradisio ****
Description Hotel Club Paradisio
The Club Paradisio Hotel offers you an extensive choice of accommodations with its 239 rooms, spread out in low buildings and well-tended gardens. A 4-star Green Star Hotel certification attests to the hotel's efforts deployed to preserve the environment. The club hotel welcomes children of all ages and is an ideal getaway for families; connecting rooms and spacious suites are the best options for families with kids or groups of friends. Club Paradisio also attracts couples looking for seaside pampering and mouthwatering foods. Marco Polo Restaurant, accessed by bridges over the lagoon, presents international themed buffets, while Morgan's Beach Bistro serves grill and seafood specialties on the beach.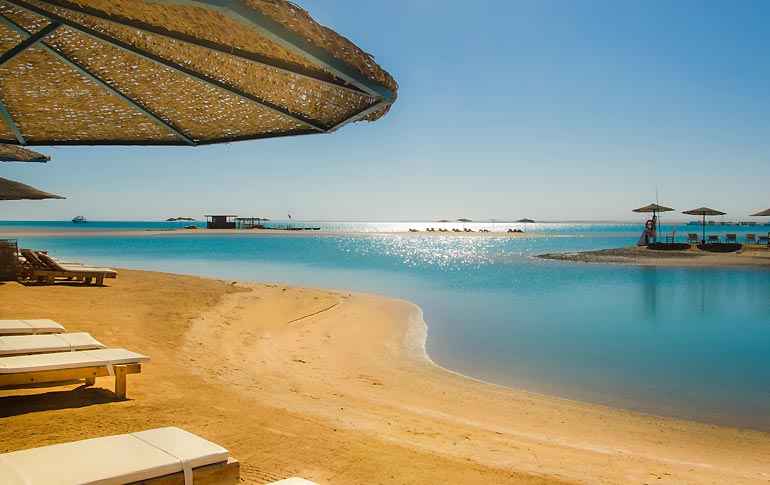 Accommodation
The rooms are designed using different beautiful orange and blue tones , iron and luminous red with golden-brown wooden pieces of furniture to create a unique ambiance. The Club rooms with garden view are between 21 and 26 m ² big. All rooms offers a balcony or terrace, air-conditioning, TV, phone, free WLan, minibar, tea machine and coffeemaker, safe, bath with shower, WC and hairdrier.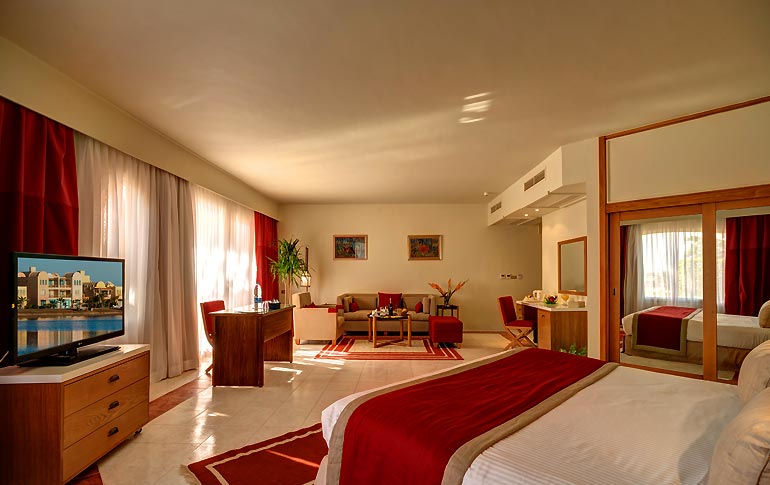 Restaurant's
All-Inclusive-Resort, Marco Polo restaurant with Al a Carte dishes, Morgan' Beach restaurant with grill specialities and fish dishes, Steigenberger Golf Resort in a walking distance , not forgetting El Gouna with its unique diversity of restaurants.
Sport and Entertainment
The fine sandy beach and the ravishing protected bay offers you an ideal place to swim, play with your kids and enjoy your favourite water activity. The entertainment variety of Club Paradisio encloses an extensive animation programme with fun beach activities as well as the multilingual kids club. Different sports activities such as kite surfing, diving, tennis, squash, archery are available. In addtion to Golf at El Gouna's USPGA championship course located next to the Steigenberger Golf Resort. After a long active day on the beach you can enjoy a relaxing time in the spa with its quiet outdoor pool, sauna, jacuzzi and massage treatments.
Payment in the hotel / money exchange
In the Club Paradisio ATM is available and cash is accepted in every current currency. In El Gouna there are also several banks and ATM's. Like almost everywhere in Egypt credit cards (Visa and Mastercard) are accepted.
Where to find the Diving Center
The Diving Center is located at the end of he beach approx. 5 minutes walking distance from the reception.
Transfer
For small money shuttle services and Tuk-Tuk's are available in all El Gouna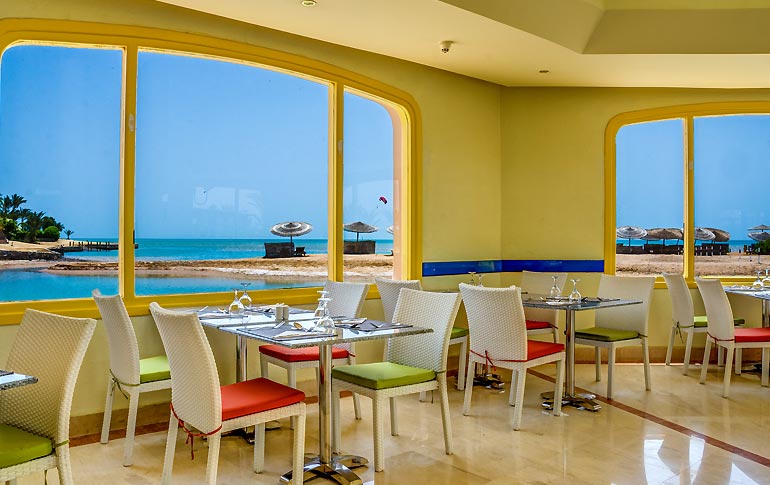 Booking & Offers
You have questions regarding your booking for dive packages and courses? Questions about our offers and ORCA Dive Clubs? Our service telephone is available from Monday – Friday from 11:00 to 19:00. Our office in Rosenheim can be reached at the following number: 08031 381 979
Bookings with ORCA Dive Clubs
Diving programs, dive packages, diving courses, rental equipment and snorkeling you can book with great pre-booking discount directly and online.
Booking offices
For a personal consultation and booking you can contact one of the below booking agent/tour operator/travel agency
ORCA Explorer Reisen
Innaustr. 11
83026 Rosenheim
Telefon: +49 8031 1885-0
Fax: +49 8031 1885-7222
URL:www.orca.de
E-Mail:info@orca.de
Tauchschule Dresden
Leipziger Str. 28
D-01127 Dresden
Tel. 0049 (0) 351 4162304
Fax 0049 (0) 351 4162332
URL:www.tauchschule-dresden.de
E-Mail:info@tauchschule-dresden.de
Divestyle
Hofmillerstrasse 7
D- 83024 Rosenheim
Tel. 0049 (0)8031 17647
Fax 0049 (0)8031 14418
URL:www.tauchen-urlaub.de
E-Mail:info@tauchen-urlaub.de
Aquanaut Tauchreisezentrum
Wächtersbacherstr.83
60386 Frankfurt
Tel: 0049 69 / 96202805
Fax: 0049 69 / 60905825
URL:www.aquanaut-tauchreisen.de
E-Mail:tauchreisen@aquanaut.de
Schauinsland
Schauinsland-Reisen GmbH
Stresemannstr. 80
47051 Duisburg
Tel: 0049 (0) 203 / 99 40 5 – 0
URL:www.schauinsland-reisen.de
E-Mail:slr@schauinsland-reisen.de
Reisecenter Federsee
Schussenrieder Str. 54
88422 Bad Buchau
Tel: 0049 7582 9320790
Fax: 0049 7582 93207990
URL:www.rcf-tauchreisen.de
E-Mail: info@rcf-tauchreisen.de
sun+fun Sportreisen GmbH
Franz-Joseph-Str 43
80801 München
Tel: +49 89 20 80 76 162
Fax: +49 89 34 66 44
URL: www.sunandfun.com/tauchen
E-Mail: tauchen@sunandfun.com
light and blue GmbH
Pichlmayrstr.17a
83024 Rosenheim
Tel: 0049 (0) 8031 31992
Fax: 0049 (0) 8031 31991
URL:www.lightandblue.de
E-Mail:info@lightandblue.de
Action-Sport Tauchreisen
Vilstalstr. 84
92245 Kümmersbruck
Tel: 09621/9170980
Fax: 09621/917098-19
URL:www.action-sport.de
E-Mail:info@action-sport.de
Beluga Reisen
Sternstr, 19
37083 Göttingen
Tel: 0551/63451340
Fax: 0551/63451345
URL:www.belugareisen.de
E-Mail:info@belugareisen.de
Tauchreisen Weltweit und Meer
Lindwurmstr. 109
80337 München
Tel. +49 (0)89 260 6624
Fax. +49 (0)89 76701714
E-Mail:info@tauchreisen-weltweit.de
URL:www.tauchreisen-weltweit.de
SAMreisen
Friedrich-Rech-Strasse 268
56566 Neuwied
Tel: 0049 2631 9559-0
Fax: 0049 2631 9559-15
URL:www.samreisen.de
E-Mail: dialog@samreisen.de
sun+fun Sportreisen
Tel: 041-2020060
URL:www.sunandfun.de
E-Mail: anfrage@tauchreisen.de
About Diving AG
Zihlstrasse 80
CH-2560 Nidau
Tel. 0041 (0) 32 3253666
Fax 0041 (0) 32 3253669
URL:www.about-diving.com
E-Mail: info@about-diving.ch
Seleger SportsTravel
Hasenbühltr.25
8910 Affoltern a.A.
URL:www.seleger.ch
E-Mail: info@seleger.ch
sun+fun Sportreisen
Tel: 01-3151140
URL:www.sunandfun.de
E-Mail: anfrage@tauchreisen.de
Tropical Seas
Röntgenstrasse 5/1
AT 9500 Villach
Tel:0043 4242 230555
Fax: 0043 4242 23066
URL:www.tropical-seas.at
E-Mail: office@tropical-seas.at
Diving World
Bovendorpsstraat 7a
NL – 7038 CH Zeddam
Tel. 0031-314-653180
Fax 0031-314-653181
URL:www.divingworld.nl
E-Mail: info@divingworld.nl
SeaSee Travel BV
Herenstraat 29
3621 AP Breukelen
Tel: 0346 266 080
Fax: 0346 257 196
URL:www.seaseetravel.nl
E-Mail: info@seaseetravel.nl
Ultramarina
37 reu St.Leonard BP33221
F – 44032 Nantes
Tel. 0033-2-40893444
Fax 0033-2-40897489
URL:www.ultramarina.com
E-Mail: info@ultramarina.com
Diving Travel Network
Kungsgatan 8B
972 34 Lulea
Tel: 0046 920228589
URL:www.divingtravel.se
E-Mail: info@divingtravel.se
Trails – Wild Water
Steenweg Op Vilvoorde 359
1745 Opwijk
Tel: 0032(0)474471349
URL:www.wildwater.be
E-Mail: info@wildwater.be