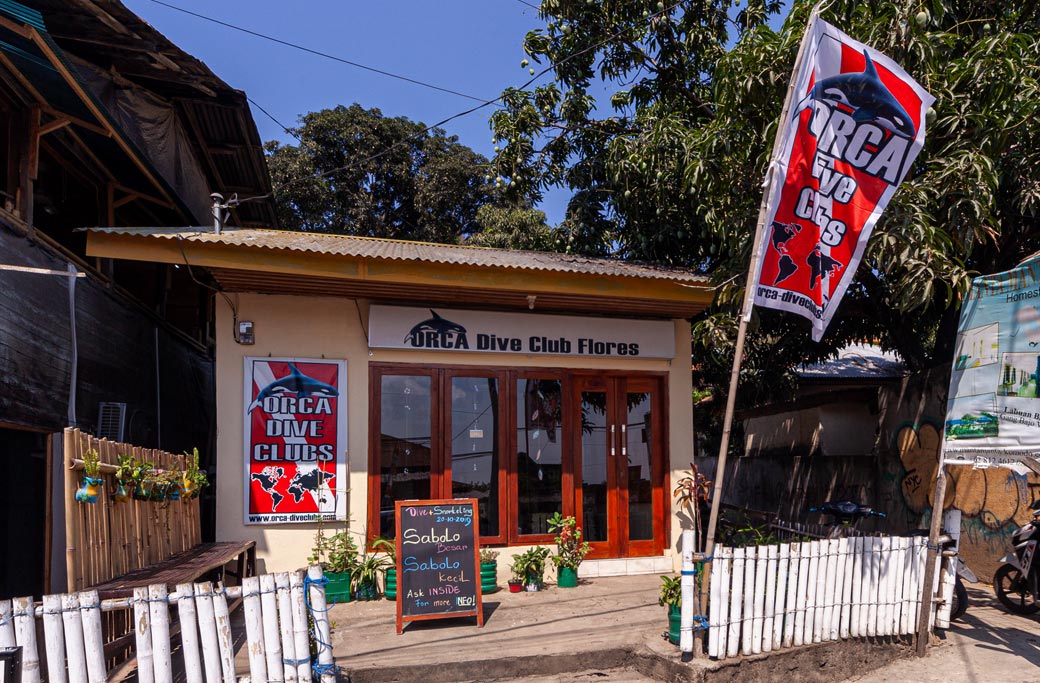 Flores, which is located east of Bali, is one of the larger islands among the Lesser Sunda Islands. The easternmost town of the island, Labuan Bajo has evolved into a major hot spot for divers in Indonesia in recent years. The Komodo National Park, to which the underwater world belongs to, is one of currently only three in the Coral Triangle, the area with the largest biodiversity worldwide. From the " Hotel Jaykarta Suites Komodo Flores", the home of the local ORCA Dive Club is also just a stone's throw away form the islands of Komodo and Rinca, where the largest lizards in the world live.
ORCA Dive Club
The ORCA Dive Club is well equipped with 20 equipment sets. For excursions between Flores and Komodo, the divers have access to 100 aluminium bottles with DIN connections, which can be filled quickly with a high performance Coltri compressor. In contrast to other ORCA Dive Clubs, no Nitrox is available at Flores.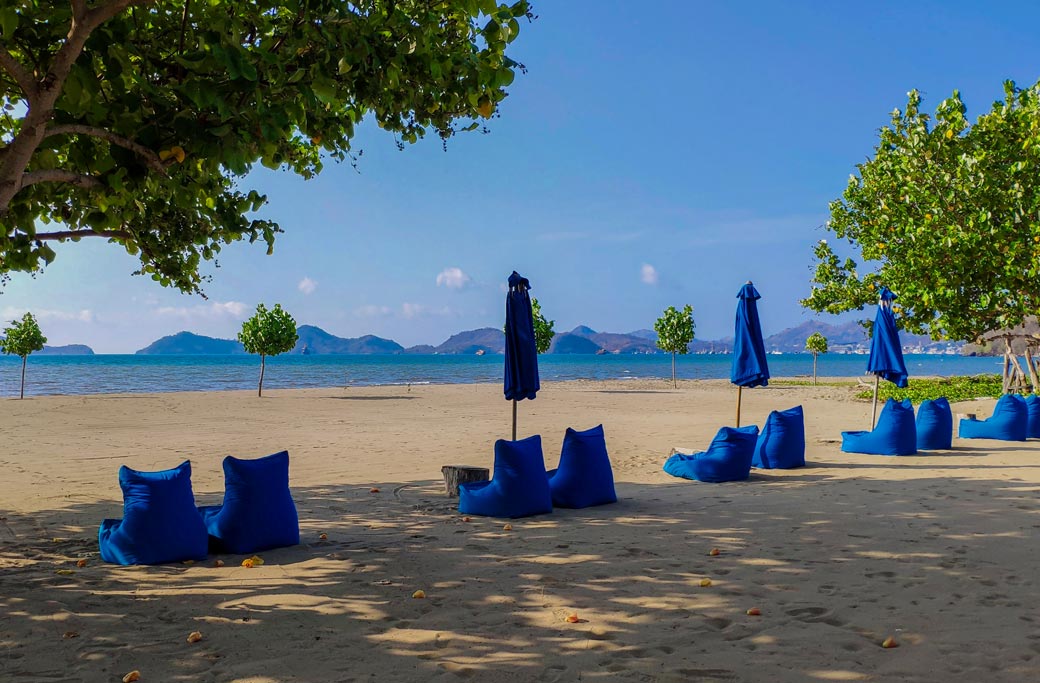 Dive sites and diving boats
The ORCA Dive Club has a private, 18-metre boat with which the dive sites around the west of Flores are accessed. Spectacular dives with manta rays or sharks are possible here all year round. The Strait of Komodo is known for its great diversity. However, strong currents have to be expected at some dive sites.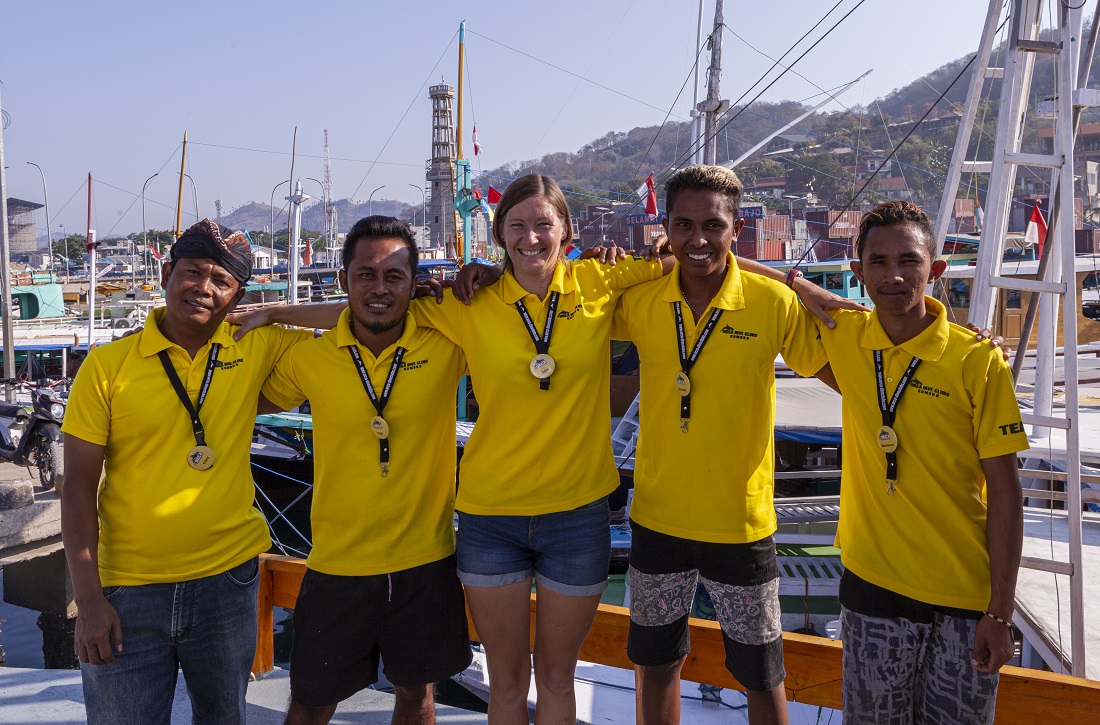 JAYAKARTA SUITES KOMODO FLORES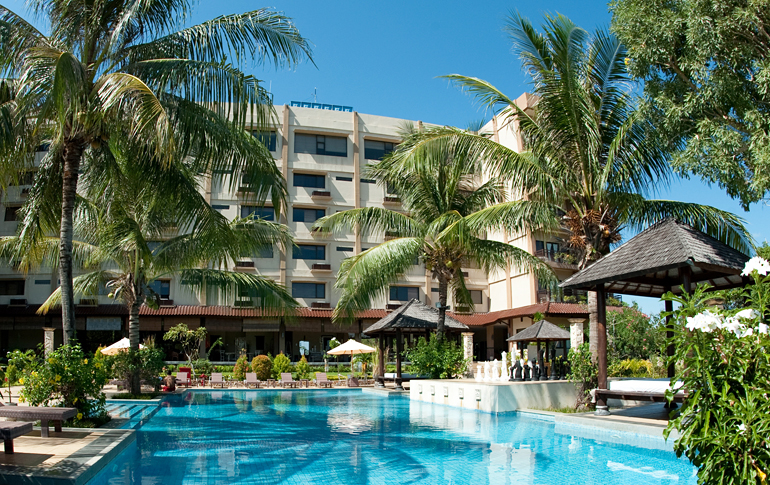 The Jayakarta Suite Komodo Flores, the first 5-star hotel & dive resort in Labuan Bajo, Flores is located only 10 minutes by car from the Komodo airport. Situated on the east coast of Labuan Bajo and surrounded by beautiful sea and amazing mountainous landscape, the Jayakarta Suite Komodo Flores offers those staying in this hotel outstanding accommodation and services.
Description
The Jayakarta Suites Komodo Flores was built in a perfect combination of modern architecture and unique style wooden furniture. It features 71 suite rooms including Deluxe Suites, Jayakarta Suites and Exclusive Presidential Suites. A replica of the astonishing Komodo Dragon is placed at the entrance area of the hotel as a pride symbol of the island. A spacious open-air restaurant on the ground floor offers you a view of the mesmerizing mountainous landscape and sea of the island. The friendly staff are committed to give the best services for you.
Rooms
Bringing the cultures of Flores, a handmade original textile from the island is placed in each room. All rooms are equipped with mini-bar, remote control television, international channel TV and individual remote control. Full amenities are settled in every room. In all rooms of the hotel you can use a free wireless internet connection.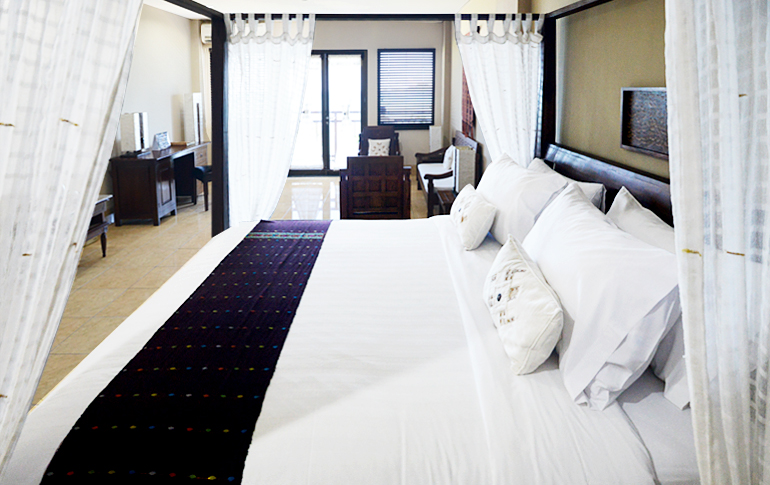 Boards/Meals
The hotel's restaurants serves various kind of cuisines from the original Indonesian cuisine to the sophisticated European cuisines. Light snacks and menus are available throughout the day at the pool side, at the pool bar or the main restaurant. The bar is specialized in tropical cocktails and carries major international brands of liquor.
Sports & Entertainment
In the Jayakarta Suites Komodo, Flores, you will be pampered during your period of vacation. Several sport facilities such as tennis and volley court, jogging track, fitness centre are available for your convenience. A moderate swimming pool is built facing the beach offering a relaxing atmosphere. A good quality spa center is also available to make your holiday enjoyable. Other facilities like coffee shop, lounge, pool bar and karaoke are made at your disposal.
Methods of Payment
The Jayakarta Suites Komodo Flores accepts payment by most credit cards, Indonesia Rupiah and also US dollars. ATM you can find in Labuan Bajo.
Distance to Orca Dive Club Flores
ORCA Dive Club Flores is located directly on the side of the hotel reception area on the ground floor overlooking the blue sea.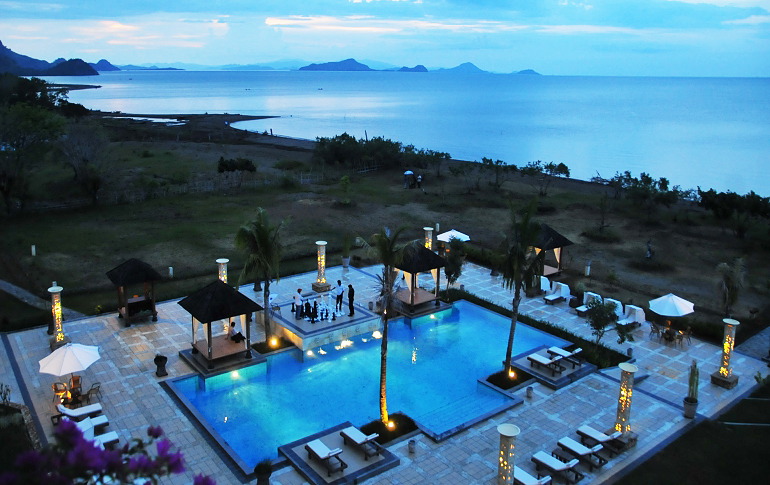 PURI SARI BEACH HOTEL LEBUAN BAJO FLORES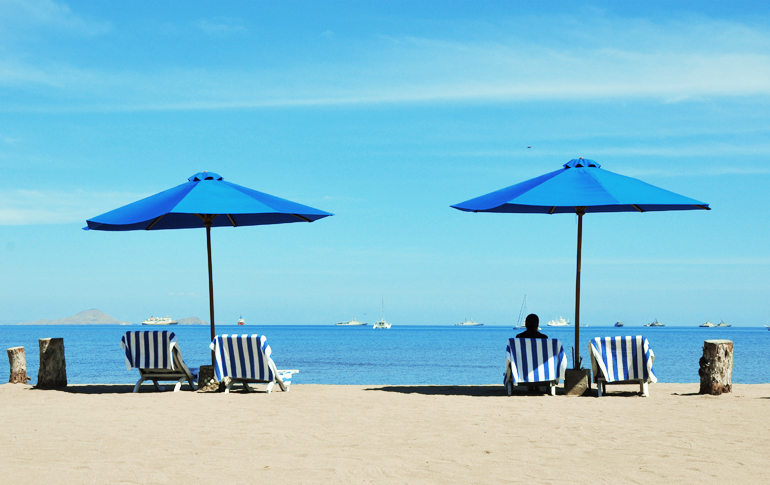 Puri Sari Beach Hotel conveniently located on Beach in the outskirts of Labuan The Hotel is a quiet and secluded beach retreat on the western tip of Flores Island. Labuan Bajo is an ideal departure point for Komodo National Park, which is well-known for its Komodo dragons, the world's largest lizards, as well for its world-class diving spots.
Description
Spread over three acres including tropical gardens, meticulously manicured grounds and a 350-meter beach, Puri Sari Beach Hotel allows guests to completely immerse themselves in the exotic atmosphere of Western Flores. Its exquisite setting and striking architecture make a stay at this enchanting hotel an experience of true luxury.
This 21-room hotel, possessing a stunning outdoor swimming pool and a superb open-air restaurant, was designed in harmony with the natural environment, blending modern amenities with elements of traditional Western Flores architecture.
Puri Sari Beach Hotel is a charming and tranquil oasis, ideal for anyone seeking a relaxing and peaceful atmosphere; a place to enjoy spectacular sunsets, and to soak in the atmosphere of its natural environment: the sounds of the waves, the songs of the tropical birds, and the rustling of palm fronds.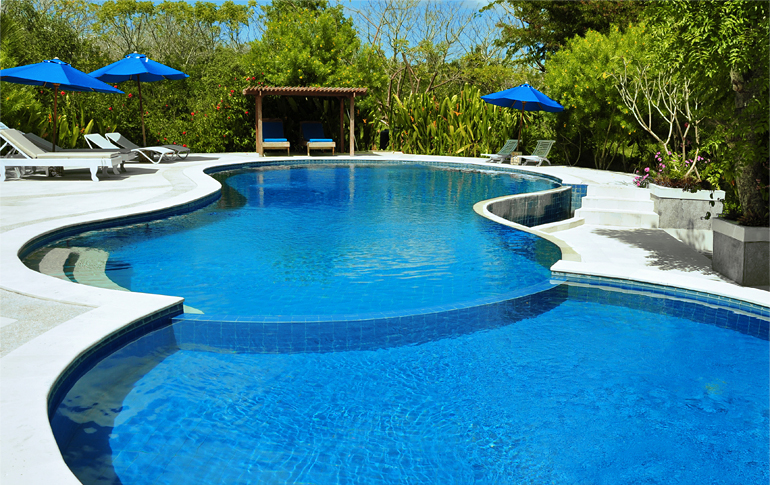 Rooms
All rooms are equipped with single or double beds, bath room with shower, air conditioning, refrigerator and mini bar, as well as a small terrace.
All rooms (21 in total) have been decorated to the highest standard, combining natural colours and a rare and unique earthy brown wood texture.
Even here, so far away, you will have easy access to the rest of the world with the free WIFI spot in the Lobby and Restaurant.
Food
Breakfast is included in the room rates.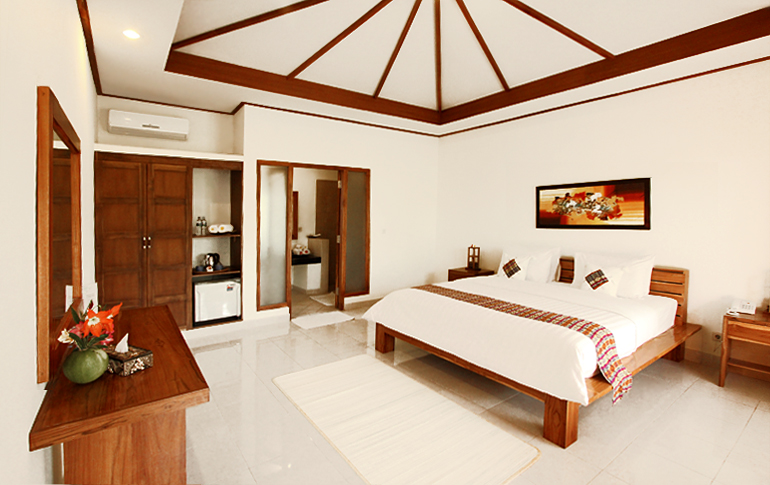 Booking & Offers
You have questions regarding your booking for dive packages and courses? Questions about our offers and ORCA Dive Clubs? Our service telephone is available from Monday – Friday from 11:00 to 18:00. Our office in Rosenheim can be reached at the following number: 08031 381 97
Bookings with ORCA Dive Clubs
Diving programs, dive packages, diving courses, rental equipment and snorkeling you can book with great pre-booking discount directly and online.
Booking offices
For a personal consultation and booking you can contact one of the below booking agent/tour operator/travel agency
ORCA Explorer Reisen
Innaustr. 11
83026 Rosenheim
Telefon: +49 8031 1885-0
Fax: +49 8031 1885-7222
URL:www.orca.de
E-Mail:info@orca.de
Tauchschule Dresden
Leipziger Str. 28
D-01127 Dresden
Tel. 0049 (0) 351 4162304
Fax 0049 (0) 351 4162332
URL:www.tauchschule-dresden.de
E-Mail:info@tauchschule-dresden.de
Divestyle
Hofmillerstrasse 7
D- 83024 Rosenheim
Tel. 0049 (0)8031 17647
Fax 0049 (0)8031 14418
URL:www.tauchen-urlaub.de
E-Mail:info@tauchen-urlaub.de
Aquanaut Tauchreisezentrum
Wächtersbacherstr.83
60386 Frankfurt
Tel: 0049 69 / 96202805
Fax: 0049 69 / 60905825
URL:www.aquanaut-tauchreisen.de
E-Mail:tauchreisen@aquanaut.de
Schauinsland
Schauinsland-Reisen GmbH
Stresemannstr. 80
47051 Duisburg
Tel: 0049 (0) 203 / 99 40 5 – 0
URL:www.schauinsland-reisen.de
E-Mail:slr@schauinsland-reisen.de
Reisecenter Federsee
Schussenrieder Str. 54
88422 Bad Buchau
Tel: 0049 7582 9320790
Fax: 0049 7582 93207990
URL:www.rcf-tauchreisen.de
E-Mail: info@rcf-tauchreisen.de
sun+fun Sportreisen GmbH
Franz-Joseph-Str 43
80801 München
Tel: +49 89 20 80 76 162
Fax: +49 89 34 66 44
URL: www.sunandfun.com/tauchen
E-Mail: tauchen@sunandfun.com
light and blue GmbH
Pichlmayrstr.17a
83024 Rosenheim
Tel: 0049 (0) 8031 31992
Fax: 0049 (0) 8031 31991
URL:www.lightandblue.de
E-Mail:info@lightandblue.de
Travel Team GmbH & Co. KG & Action Sport Tauchreisen
Hersbrucker Str. 23
91244 Reichenschwand, Germany
Tel. +49 9151 726960
Fax +49 9151 7269633
URL: www.action-sport.de
URL: www.action-sport-tauchreisen.de
E-Mail: info@action-sport.de
Beluga Reisen
Sternstr, 19
37083 Göttingen
Tel: 0551/63451340
Fax: 0551/63451345
URL:www.belugareisen.de
E-Mail:info@belugareisen.de
Tauchreisen Weltweit und Meer
Waterloostr. 63
81746 München
Tel. +49 (0)89 260 6624
Fax. +49 (0)89 76701714
E-Mail:info@tauchreisen-weltweit.de
URL:www.tauchreisen-weltweit.de
SAMreisen
Friedrich-Rech-Strasse 268
56566 Neuwied
Tel: 0049 2631 9559-0
Fax: 0049 2631 9559-15
URL:www.samreisen.de
E-Mail: dialog@samreisen.de
sun+fun Sportreisen
Tel: 041-2020060
URL:www.sunandfun.de
E-Mail: anfrage@tauchreisen.de
About Diving AG
Zihlstrasse 80
CH-2560 Nidau
Tel. 0041 (0) 32 3253666
Fax 0041 (0) 32 3253669
URL:www.about-diving.com
E-Mail: info@about-diving.ch
Seleger SportsTravel
Hasenbühltr.25
8910 Affoltern a.A.
URL:www.seleger.ch
E-Mail: info@seleger.ch
sun+fun Sportreisen
Tel: 01-3151140
URL:www.sunandfun.de
E-Mail: anfrage@tauchreisen.de
Tropical Seas
Röntgenstrasse 5/1
AT 9500 Villach
Tel:0043 4242 230555
Fax: 0043 4242 23066
URL:www.tropical-seas.at
E-Mail: office@tropical-seas.at
Diving World
Bovendorpsstraat 7a
NL – 7038 CH Zeddam
Tel. 0031-314-653180
Fax 0031-314-653181
URL:www.divingworld.nl
E-Mail: info@divingworld.nl
SeaSee Travel BV
Herenstraat 29
3621 AP Breukelen
Tel: 0346 266 080
Fax: 0346 257 196
URL:www.seaseetravel.nl
E-Mail: info@seaseetravel.nl
Ultramarina
37 reu St.Leonard BP33221
F – 44032 Nantes
Tel. 0033-2-40893444
Fax 0033-2-40897489
URL:www.ultramarina.com
E-Mail: info@ultramarina.com
Diving Travel Network
Kungsgatan 8B
972 34 Lulea
Tel: 0046 920228589
URL:www.divingtravel.se
E-Mail: info@divingtravel.se
Trails – Wild Water
Steenweg Op Vilvoorde 359
1745 Opwijk
Tel: 0032(0)474471349
URL:www.wildwater.be
E-Mail: info@wildwater.be