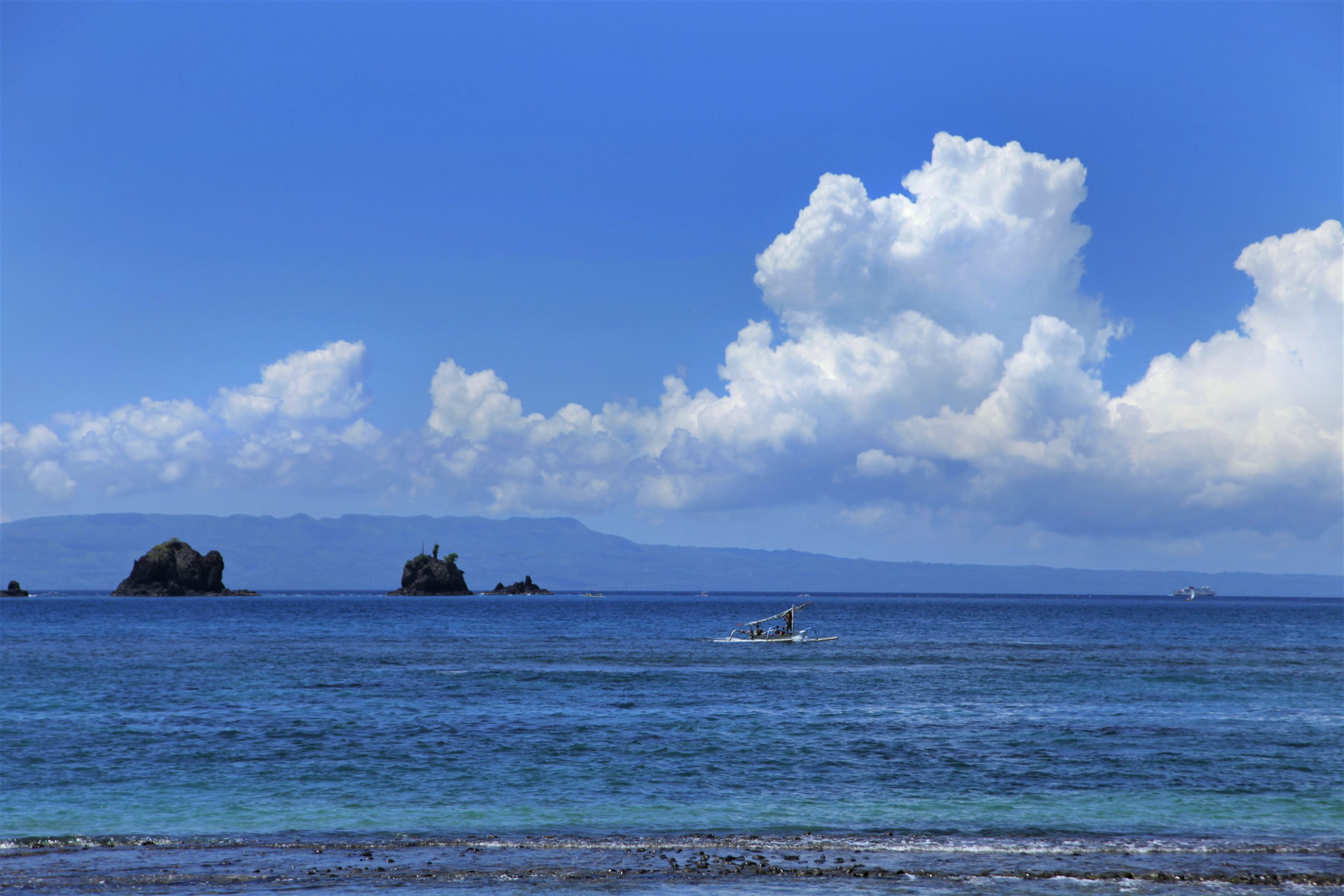 Candidasa is located about 1.5 hours by car north of the Balinese airport Denpasar. The village on the east coast of Bali is the ideal starting point for excursions under water and also on the island. The Puri Bagus Hotel is an institution in Candidasa. The top-quality resort which is located directly on the beach is home to ORCA Dive Club Candidasa. The Tepekong Island lava rock with its spectacular dive sites is located directly in front of the hotel.
ORCA Dive Club
The ORCA Dive Club is relatively big for Indonesian conditions. Guests will find 20 complete equipment sets. There are a total of 76 aluminium bottles in three different sizes. 15 litres for great consumption, 12 litres as standard tanks and 8 litres for little divers. They are all – not a given in Indonesia – fitted with DIN connections. There are also a sufficient number of INT-adapters. A strong Bauer-plant (320 l/min) is doing its job in the compressor room. Nitrox is also on offer.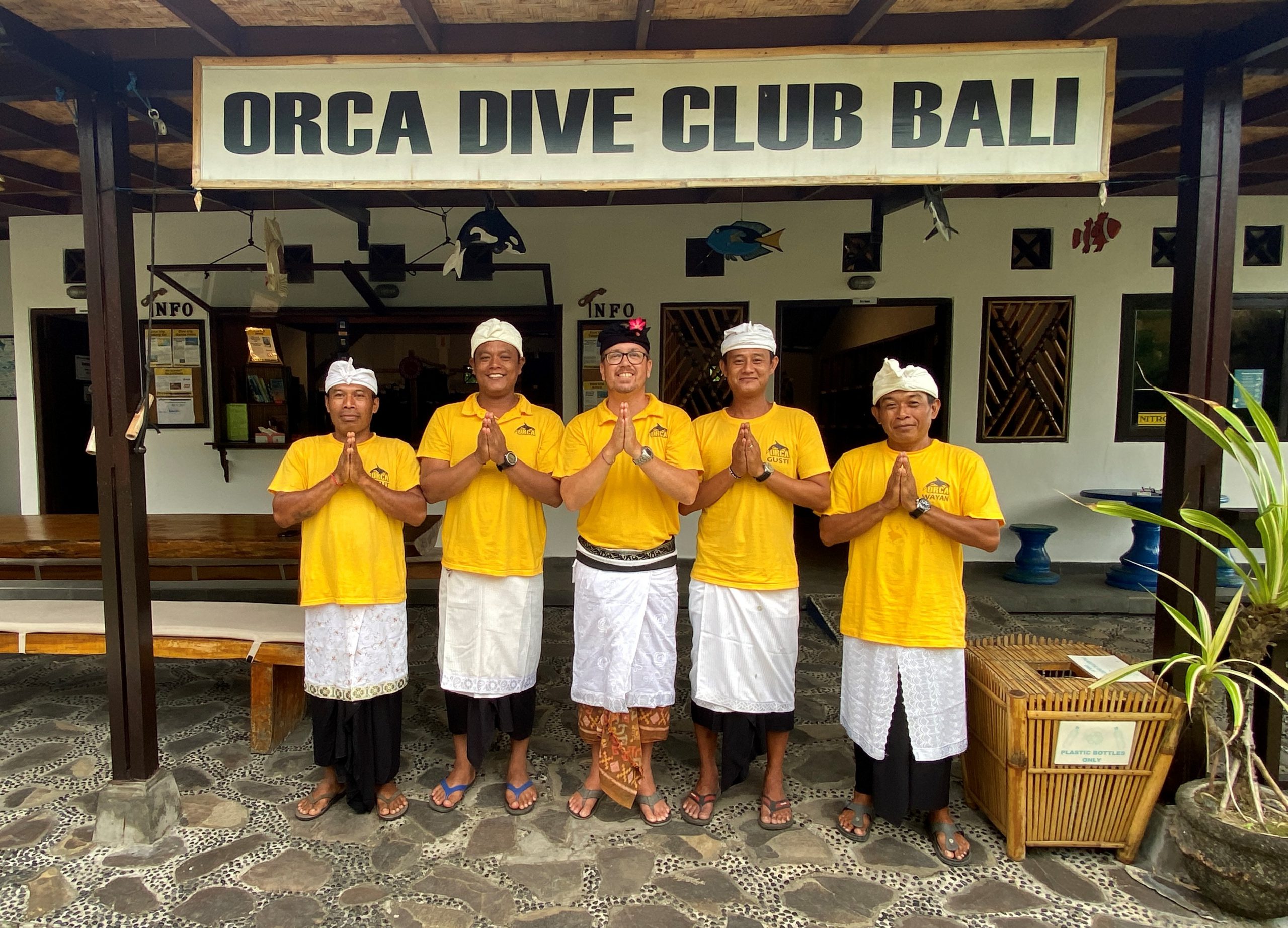 Diving boat and diving destinations
Traditional Balinesian outriggers are available for dives at Tepekong. It's less than a five minute trip to reach the dive sites at the striking rock which reaches sixty metres out of the sea. Furthermore, there are also minibus rides on offer to visit the "Liberty" wreck in Tulamben and the steep reef in Amed. From Padang Bay, speedboats take you to Nusa Penida or Nusa Lembogan with a chance to see Ocean sunfish in the summer months.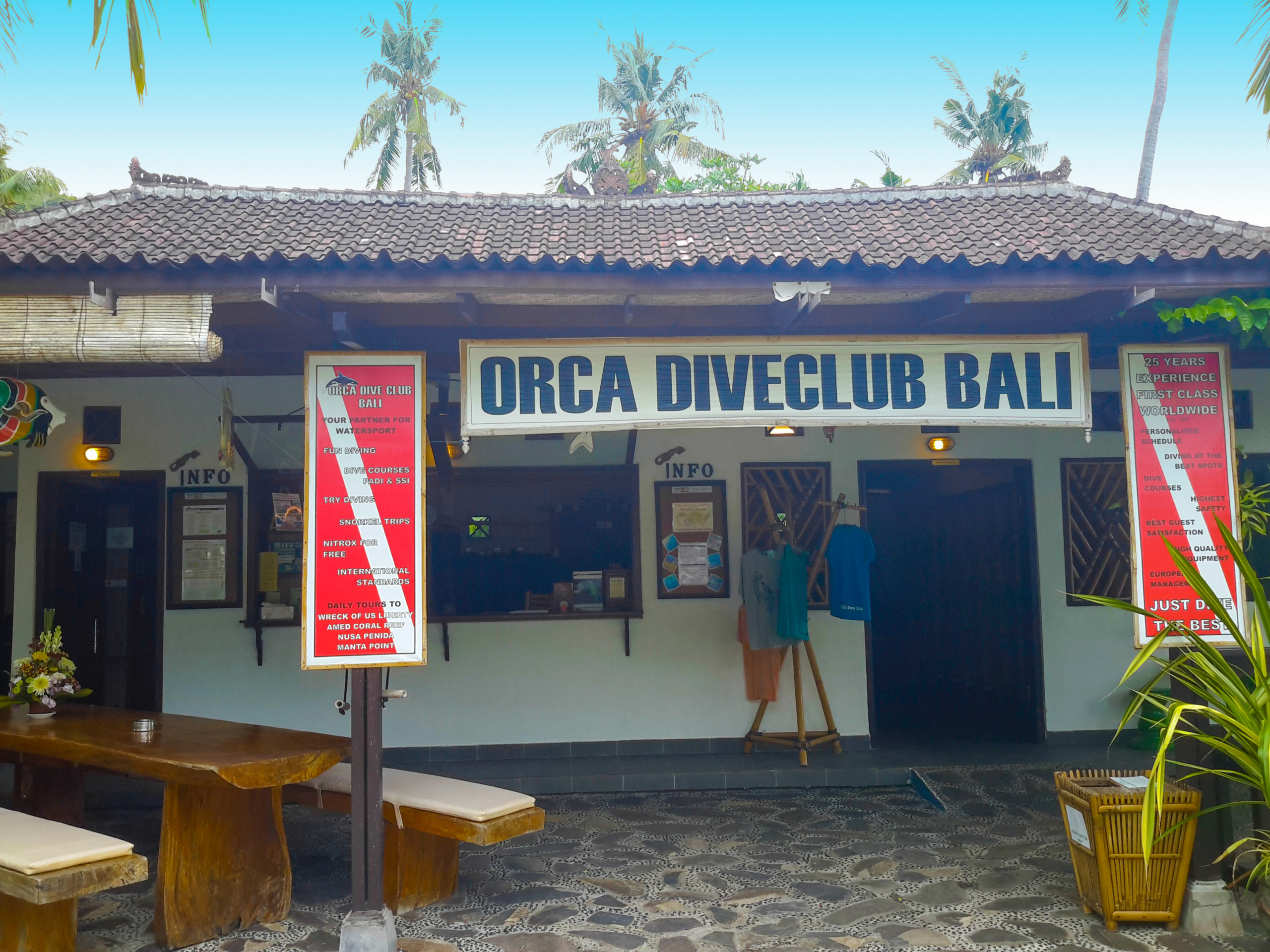 HOTEL PURI BAGUS IN CANDIDASA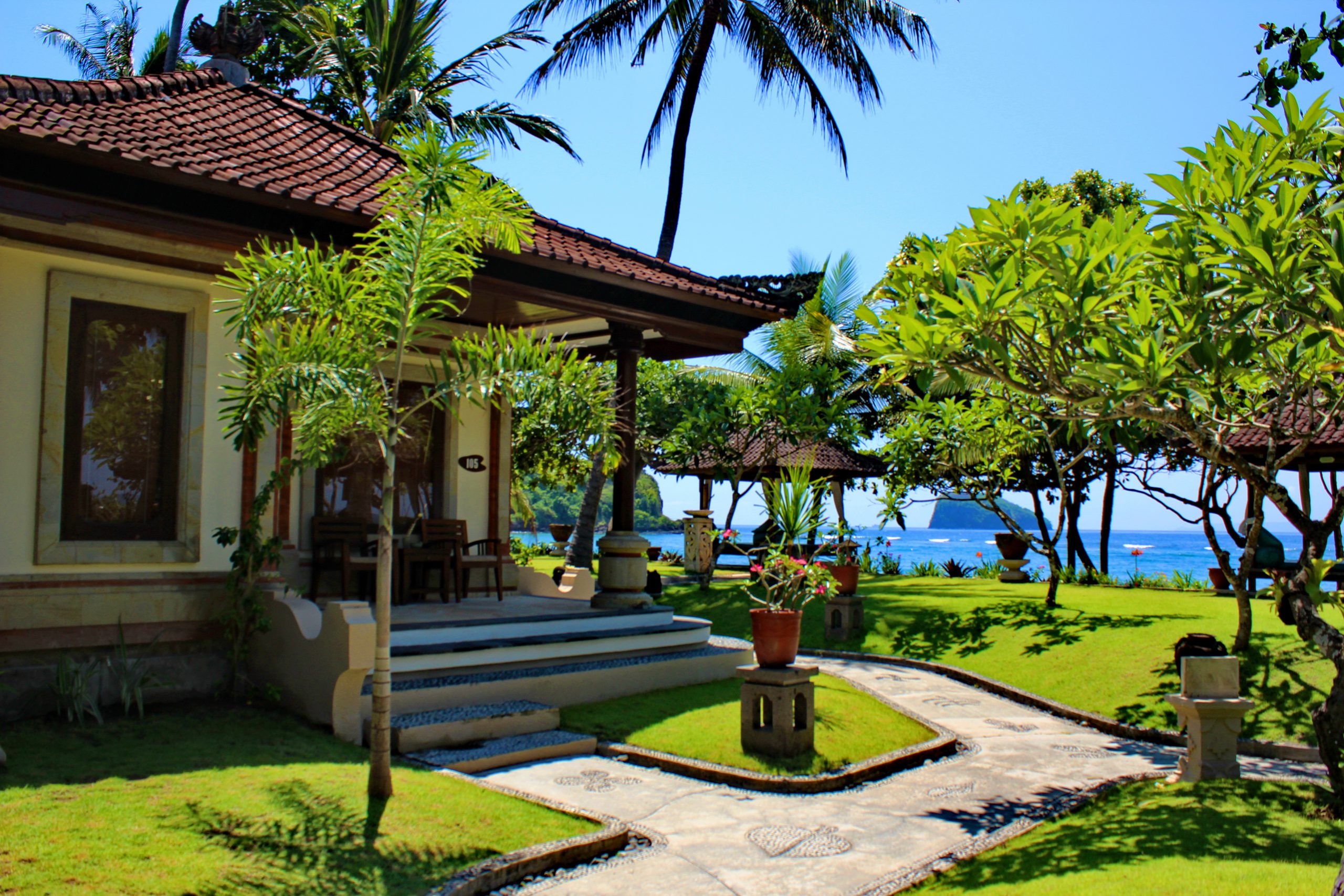 Puri Bagus Hotel Candidasa is located in the east end of Candidasa, only about 1,5 hours from the Bali International Airport in Denpasar. Situated facing direct to the sea, Puri Bagus Hotel Candidasa gives a breathtaking view for those staying in this hotel.
Description
Puri Bagus Candidasa is built in traditional Balinese style, with 48 well appointed separate villas including some double or two bedroom suites. The open-air restaurants affords spectacular views of the crystal clear blue waters of the Indian ocean, and prides itself in its traditional island cuisine. The gentle staff, proud of their origin from the neighboring villages, are committed to excellence in services.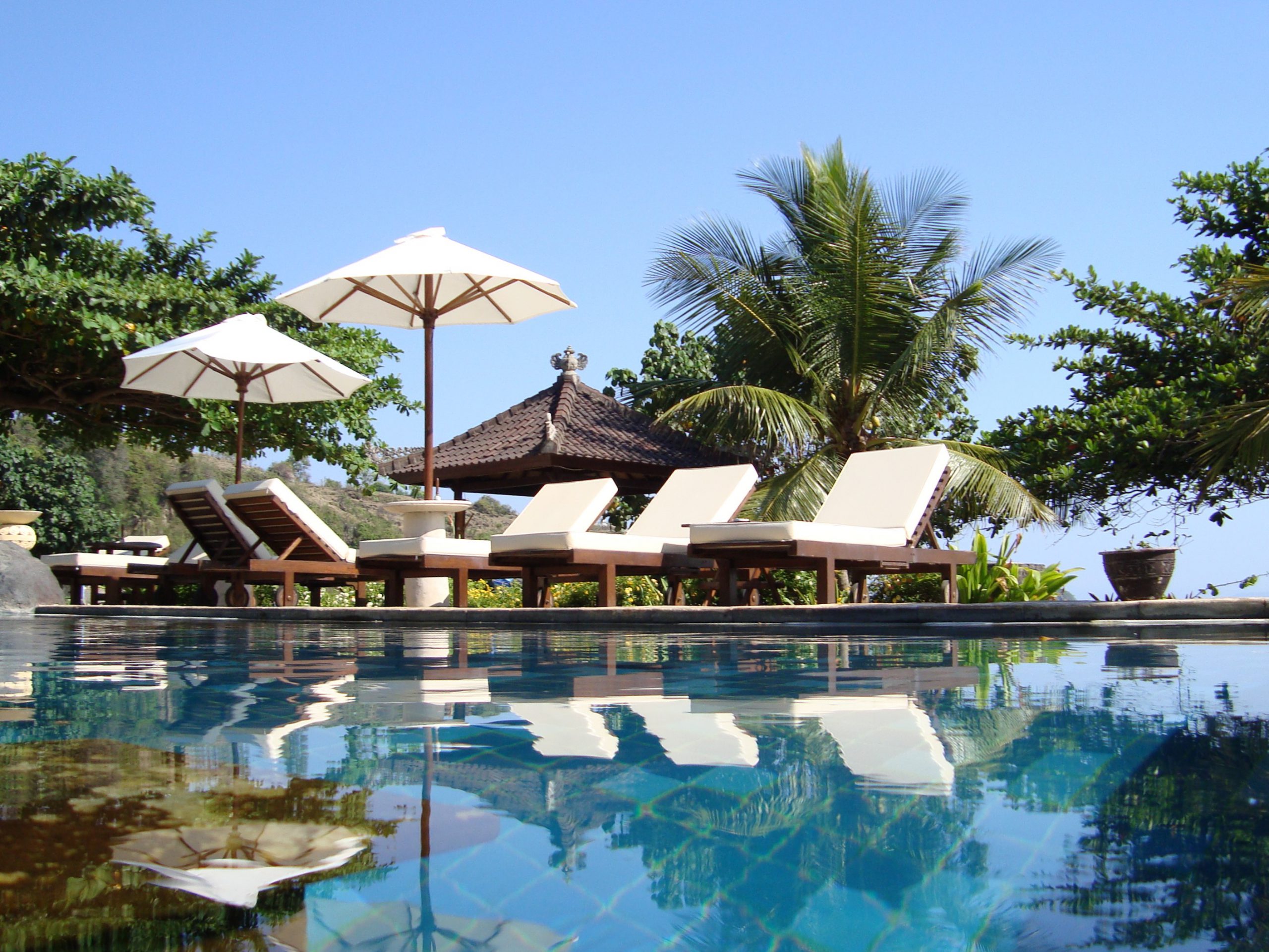 Rooms
Touches of Bali are reflected in the coconut wood furniture. A secluded in-room sitting area offers privacy, and the open terraces bring views of the carefully landscaped gardens. IDD telephone, private mini-bar, television, air condition and open-air garden bathrooms are available in each room.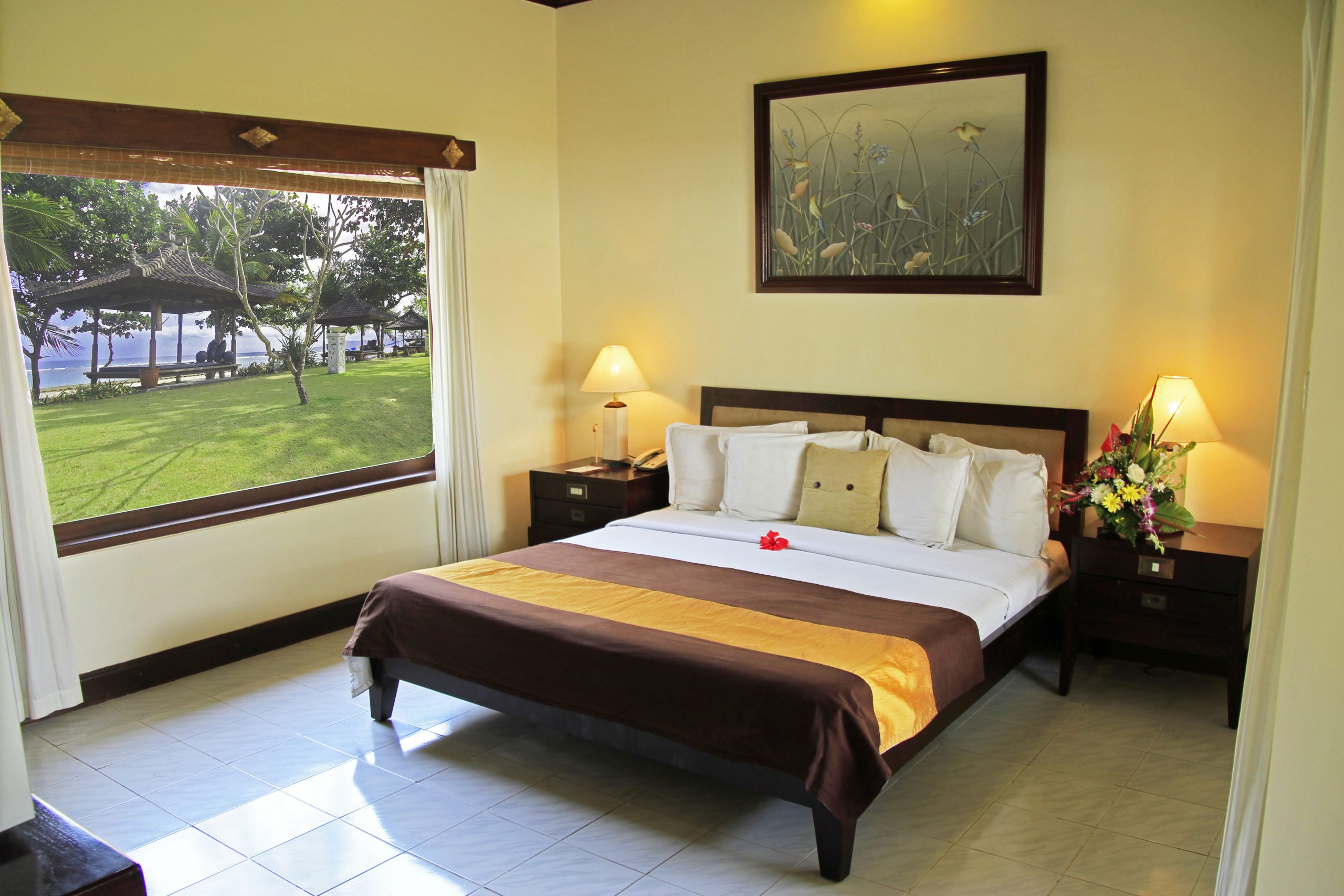 Restaurants
The hotel´s restaurant serves traditional Balinese and international cuisine. Light snacks and menus are available throughout the day at the pool side, at the pool bar or the main restaurant. The bar is specialized in tropical cocktails and carries major international brands of liquor.
Sport and Entertainment
A large swimming pool built facing the beach is made only for guests' convenience. Big spa center is also available as well as pool bar.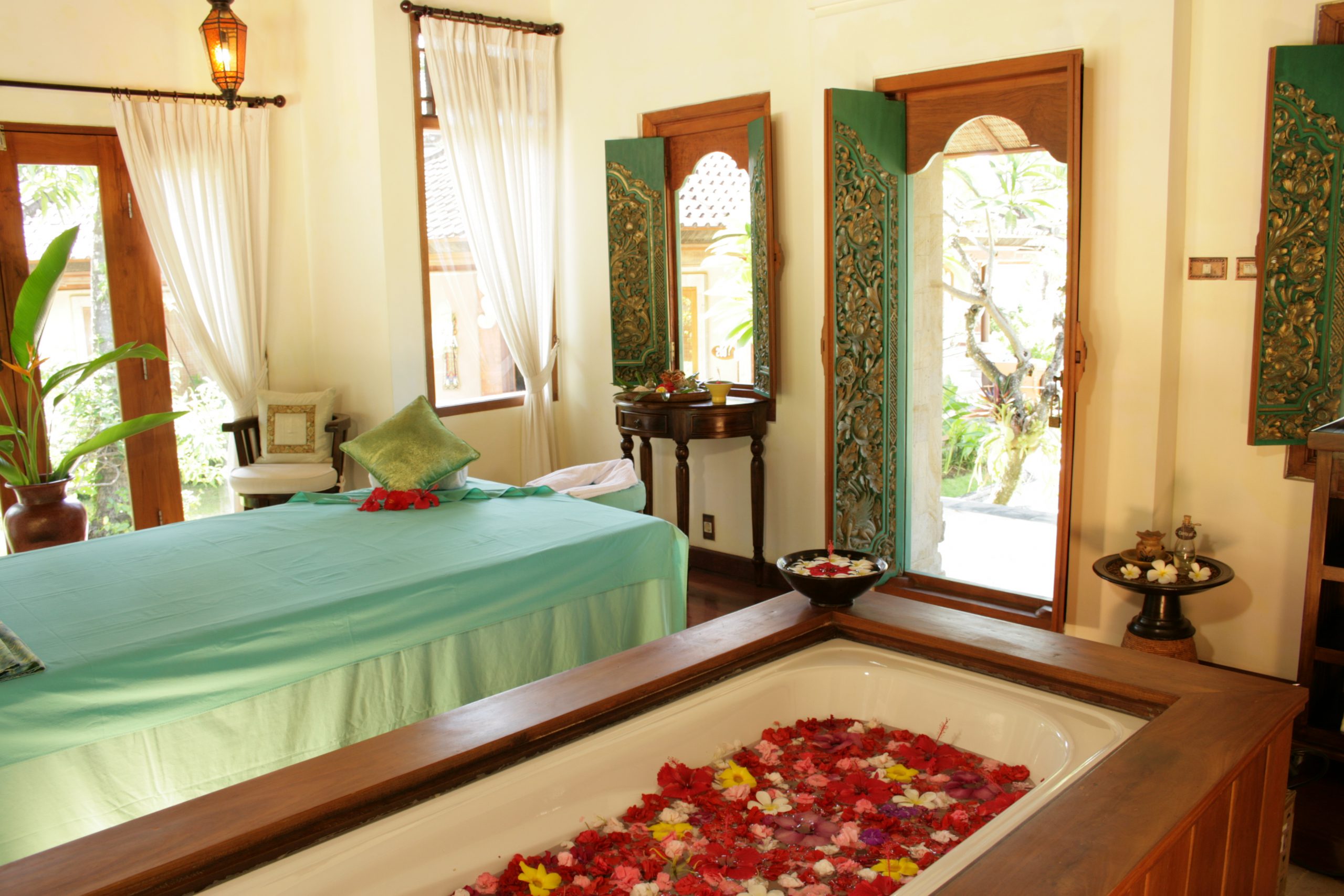 Methods of Payment
The Puri Bagus Hotel Candidasa accepts only US$, Indonesia Rupiah and credit cards (VISA and Master card).
Distance to the ORCA Dive Club
The ORCA Dive Club Bali is located direct on the seaside of the Puri Bagus Hotel.
Note
The Hotel Puri Bagus offers also an Internet point and WiFi Access for the guests. The surfing time in the internet must be paid per time.
Booking & Offers
You have questions regarding your booking for dive packages and courses? Questions about our offers and ORCA Dive Clubs? Our service telephone is available from Monday – Friday from 11:00 to 18:00. Our office in Rosenheim can be reached at the following number: 08031 381 979
Bookings with ORCA Dive Clubs
Diving programs, dive packages, diving courses, rental equipment and snorkeling you can book with great pre-booking discount directly and online.
Booking offices
For a personal consultation and booking you can contact one of the below booking agent/tour operator/travel agency
ORCA Explorer Reisen
Innaustr. 11
83026 Rosenheim
Telefon: +49 8031 1885-0
Fax: +49 8031 1885-7222
URL:www.orca.de
E-Mail:info@orca.de
Tauchschule Dresden
Leipziger Str. 28
D-01127 Dresden
Tel. 0049 (0) 351 4162304
Fax 0049 (0) 351 4162332
URL:www.tauchschule-dresden.de
E-Mail:info@tauchschule-dresden.de
Schauinsland
Schauinsland-Reisen GmbH
Stresemannstr. 80
47051 Duisburg
Tel: 0049 (0) 203 / 99 40 5 – 0
URL:www.schauinsland-reisen.de
E-Mail:slr@schauinsland-reisen.de
Reisecenter Federsee
Schussenrieder Str. 54
88422 Bad Buchau
Tel: 0049 7582 9320790
Fax: 0049 7582 93207990
URL:www.rcf-tauchreisen.de
E-Mail: info@rcf-tauchreisen.de
Tauchreisen Weltweit und Meer
Waterloostr. 63
81746 München
Tel. +49 (0)89 260 6624
Fax. +49 (0)89 76701714
E-Mail:info@tauchreisen-weltweit.de
URL:www.tauchreisen-weltweit.de
sun+fun Sportreisen GmbH
Franz-Joseph-Str 43
80801 München
Tel: +49 89 20 80 76 162
Fax: +49 89 34 66 44
URL: www.sunandfun.com/tauchen
E-Mail: tauchen@sunandfun.com
light and blue GmbH
Pichlmayrstr.17a
83024 Rosenheim
Tel: 0049 (0) 8031 31992
Fax: 0049 (0) 8031 31991
URL:www.lightandblue.de
E-Mail:info@lightandblue.de
Travel Team GmbH & Co. KG & Action Sport Tauchreisen
Hersbrucker Str. 23
91244 Reichenschwand, Germany
Tel. +49 9151 726960
Fax +49 9151 7269633
URL: www.action-sport.de
URL: www.action-sport-tauchreisen.de
E-Mail: info@action-sport.de
Beluga Reisen
Sternstr, 19
37083 Göttingen
Tel: 0551/63451340
Fax: 0551/63451345
URL:www.belugareisen.de
E-Mail:info@belugareisen.de
SAMreisen
Friedrich-Rech-Strasse 268
56566 Neuwied
Tel: 0049 2631 9559-0
Fax: 0049 2631 9559-15
URL:www.samreisen.de
E-Mail: dialog@samreisen.de
sun+fun Sportreisen
Tel: 041-2020060
URL:www.sunandfun.de
E-Mail: anfrage@tauchreisen.de
About Diving AG
Zihlstrasse 80
CH-2560 Nidau
Tel. 0041 (0) 32 3253666
Fax 0041 (0) 32 3253669
URL:www.about-diving.com
E-Mail: info@about-diving.ch
Seleger SportsTravel
Hasenbühltr.25
8910 Affoltern a.A.
URL:www.seleger.ch
E-Mail: info@seleger.ch
sun+fun Sportreisen
Tel: 01-3151140
URL:www.sunandfun.de
E-Mail: anfrage@tauchreisen.de
Tropical Seas
Röntgenstrasse 5/1
AT 9500 Villach
Tel:0043 4242 230555
Fax: 0043 4242 23066
URL:www.tropical-seas.at
E-Mail: office@tropical-seas.at
Diving World
Bovendorpsstraat 7a
NL – 7038 CH Zeddam
Tel. 0031-314-653180
Fax 0031-314-653181
URL:www.divingworld.nl
E-Mail: info@divingworld.nl
SeaSee Travel BV
Herenstraat 29
3621 AP Breukelen
Tel: 0346 266 080
Fax: 0346 257 196
URL:www.seaseetravel.nl
E-Mail: info@seaseetravel.nl
Ultramarina
37 reu St.Leonard BP33221
F – 44032 Nantes
Tel. 0033-2-40893444
Fax 0033-2-40897489
URL:www.ultramarina.com
E-Mail: info@ultramarina.com
Diving Travel Network
Kungsgatan 8B
972 34 Lulea
Tel: 0046 920228589
URL:www.divingtravel.se
E-Mail: info@divingtravel.se
Trails – Wild Water
Steenweg Op Vilvoorde 359
1745 Opwijk
Tel: 0032(0)474471349
URL:www.wildwater.be
E-Mail: info@wildwater.be