Safaga (Moving to Amarina Abu Soma Resort Safaga on 01.01.2024)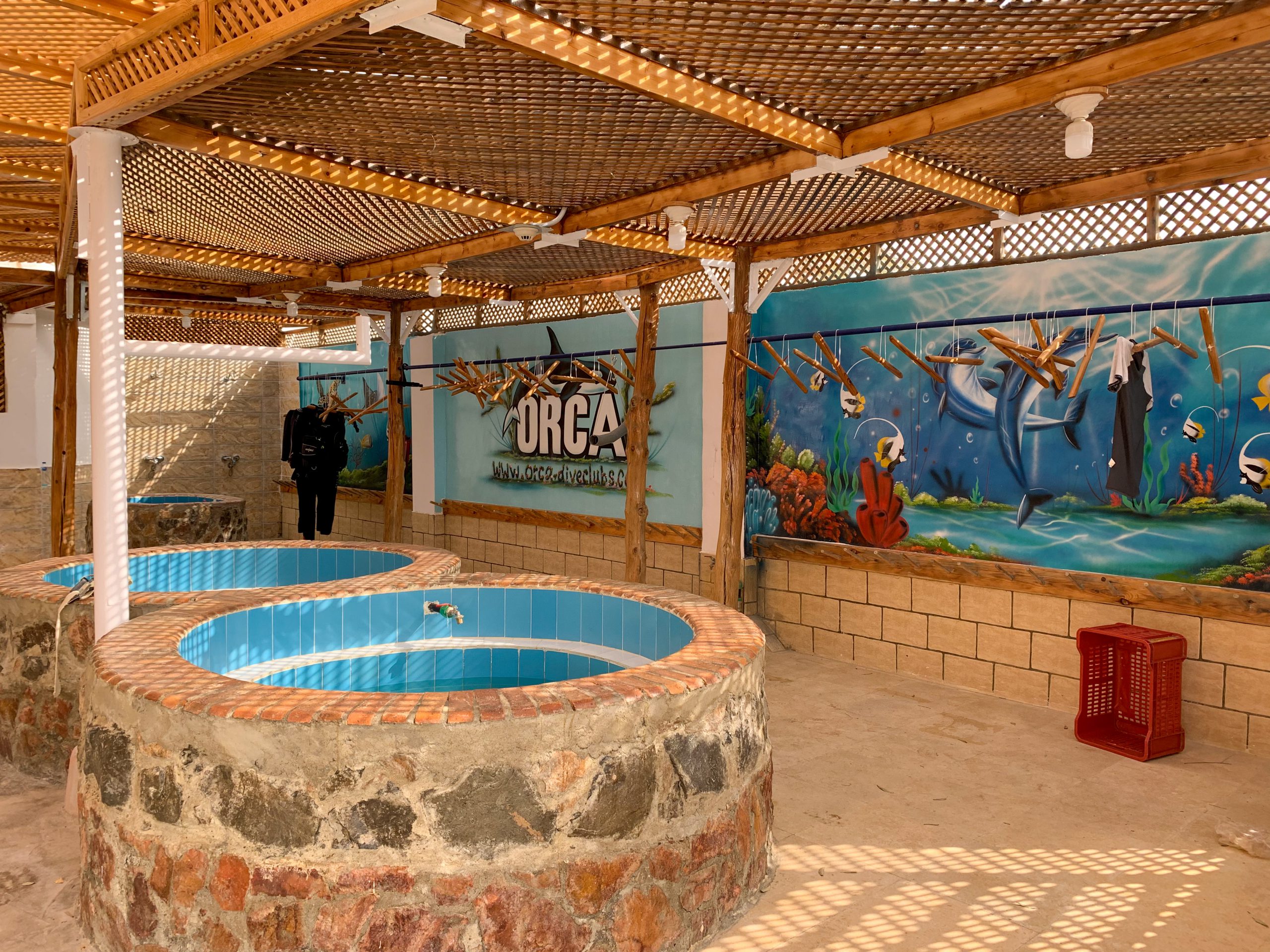 Safaga is one of the oldest and most important port cities at the Red Sea. Nevertheless, it is significantly quieter here than in the hectic tourist city of Hurghada, located 60 kilometres north of Safaga. From the airport, it takes just over half an hour to ORCA village which can be found just outside of Safaga. The small resort is operated by ORCA itself and has been designed for divers.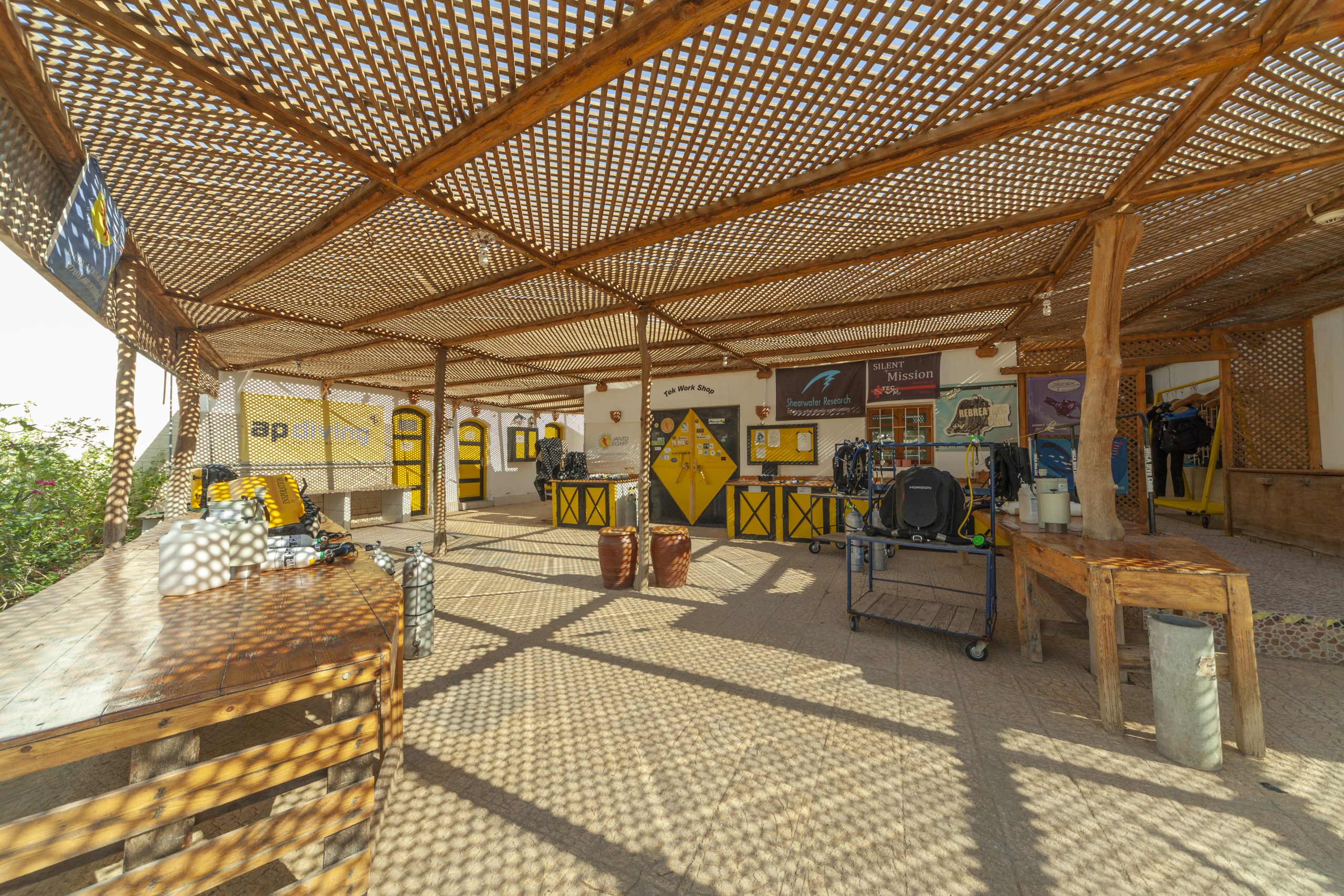 ORCA Dive Club
The ORCA Dive Club in Safaga is something like the mother of all ORCA bases by the Red Sea. 150 alu tanks with 12 – and 15-litres and 20 steel tanks are available to the divers. And with 50 rental equipment sets it is possible for every diver to find something in his/her size. A membrane system which provides 800 litres Nitrox per minute, as well as four other Bauer compressors (350 l/min and 600 l/min) ensure that there is always enough air or breathing gas available in Safaga. In case of an emergency, it is even possible to provide the neighbouring bases.
Technical diving has an important place at the base. Rebreathers can be serviced in the technical workshop. There are also always enough different gases available to satisfy the different needs of any technical divers.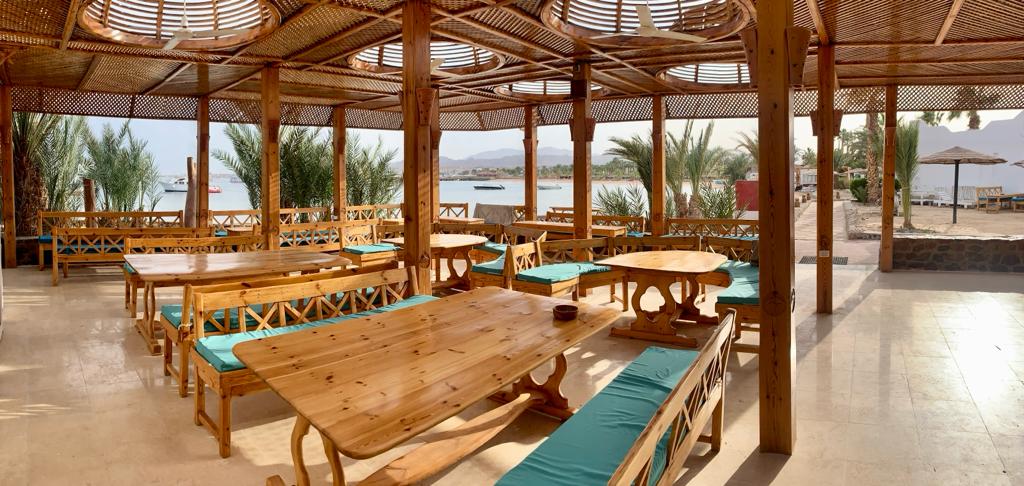 Diving boats and diving destinations
The three spacious dive boats from ORCA are moored at our own jetty, immediately adjacent to the diving centre. They are used to access the inner reefs around Tobia, but even more so the outer reefs. Highlights include the panoramic reef, which already has the characteristics of an offshore reef, Middle Reef and Abu Kafan. Famous is also the wreck of the 1991 sunken ferry Salem Express.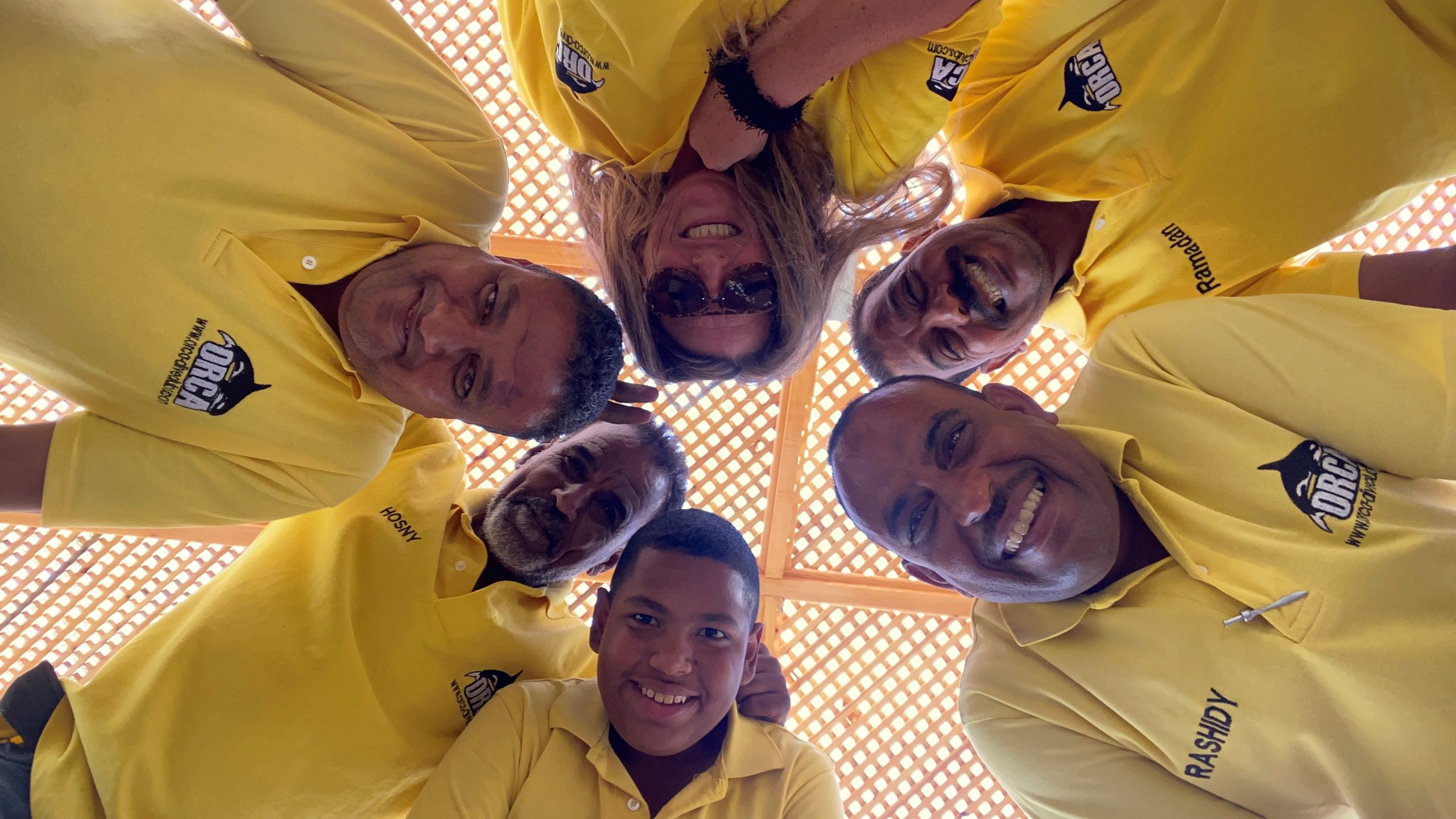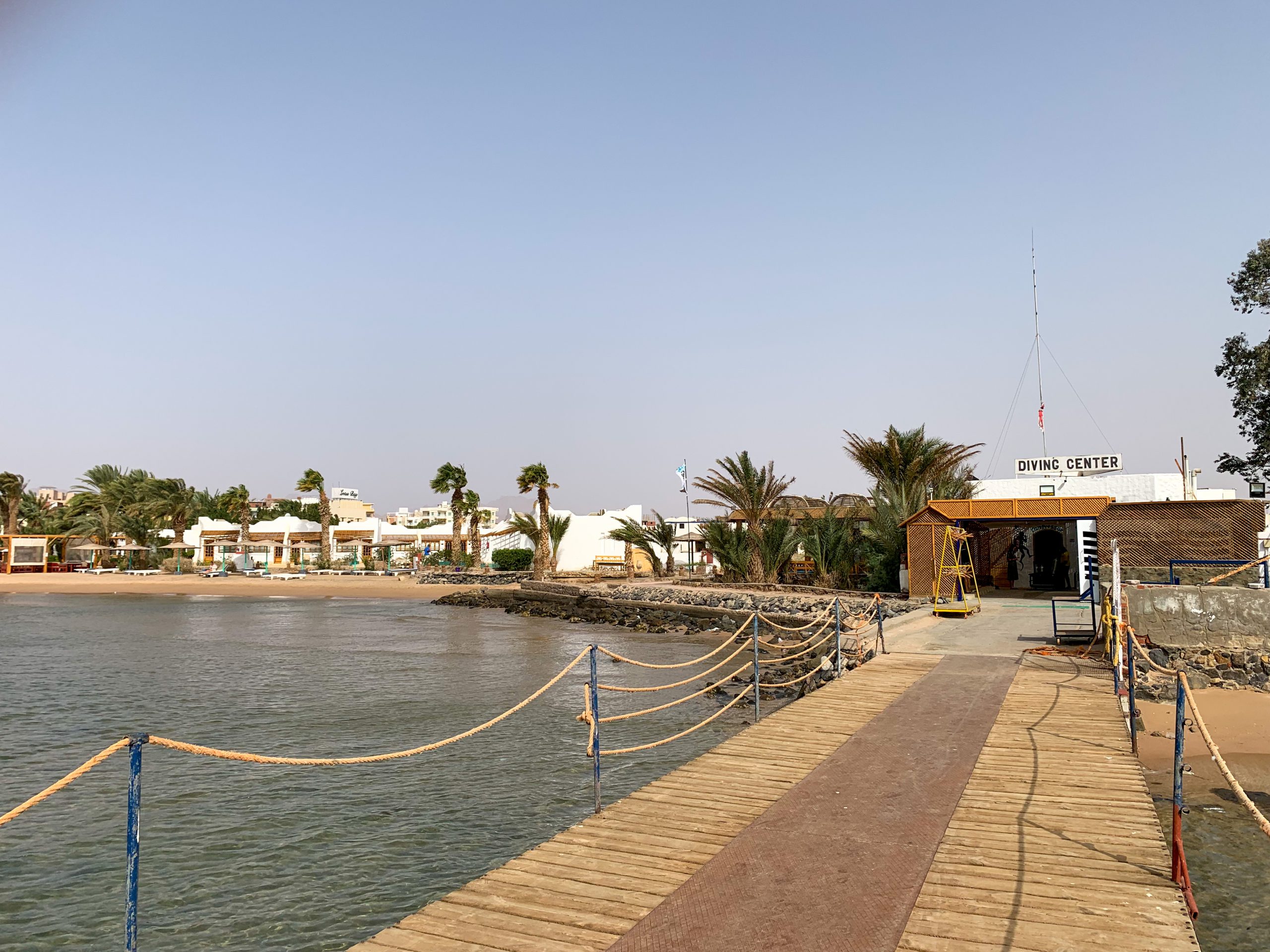 360° Panorama
Enjoy the 360 ° tour through our ORCA Dive Club and dive into the Red Sea. If you have a VR glasses and want to have a full view, please click here: 360° Panorama
ORCA VILLAGE ** (closed from 31.12.2023)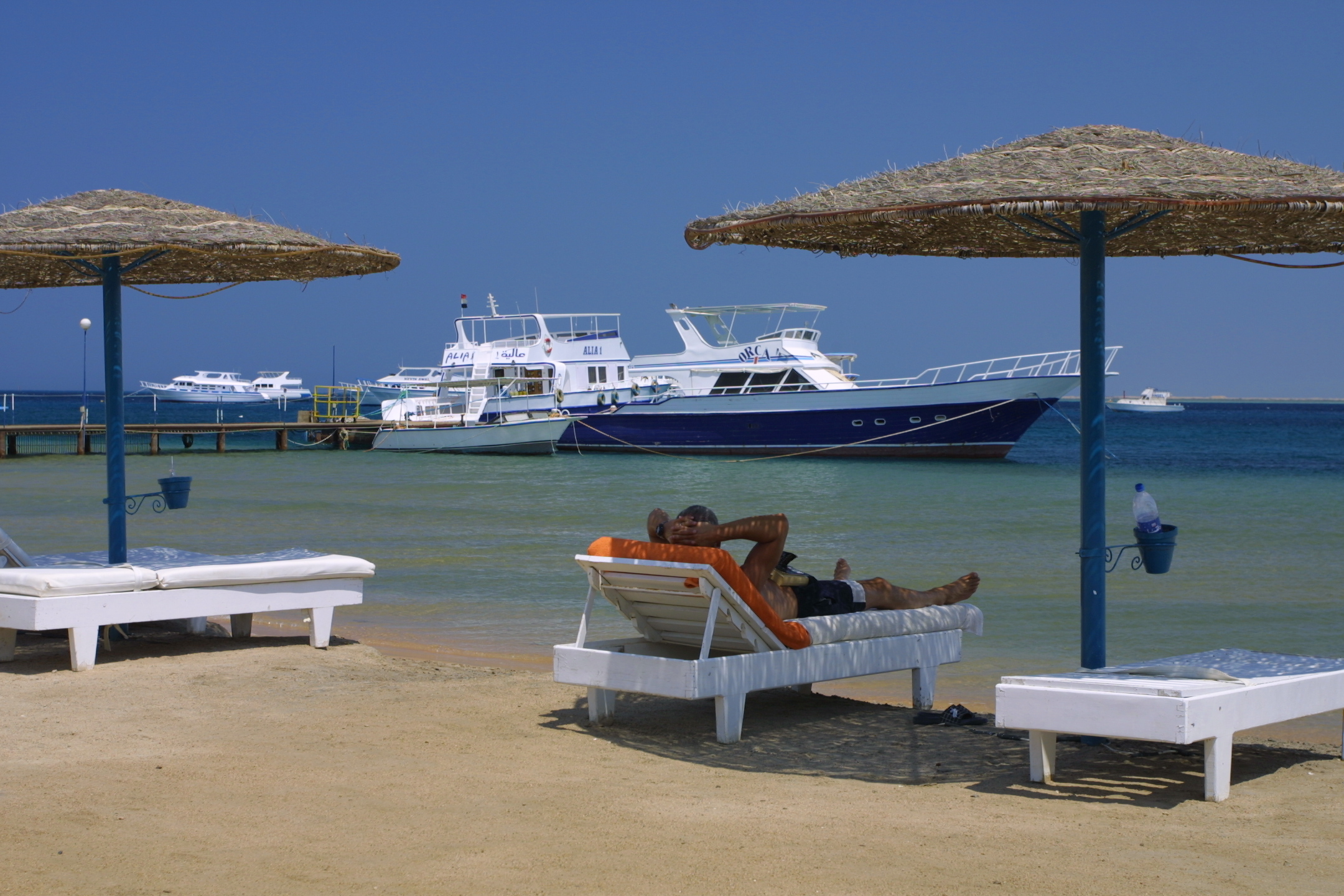 The Orca Village is situated directly adjacent to the ORCA Dive Club Safaga. Located around its own private sheltered sandy beach with all necessary amenities the Village is an ideal choice for divers and dive clubs. Transfer time to Hurghada airport approx. 45 mins and nearby Port Safaga is only 10 mins bus drive away.
Description
This small cosy hotel furnished in typical Egyptian style has 26 bungalows available situated around the private sandy beach. Reception, guest restaurant and dinning room as well as a charming beach bar complete the comfortable facility. Valuables can be deposited free of charge in the safe at the reception.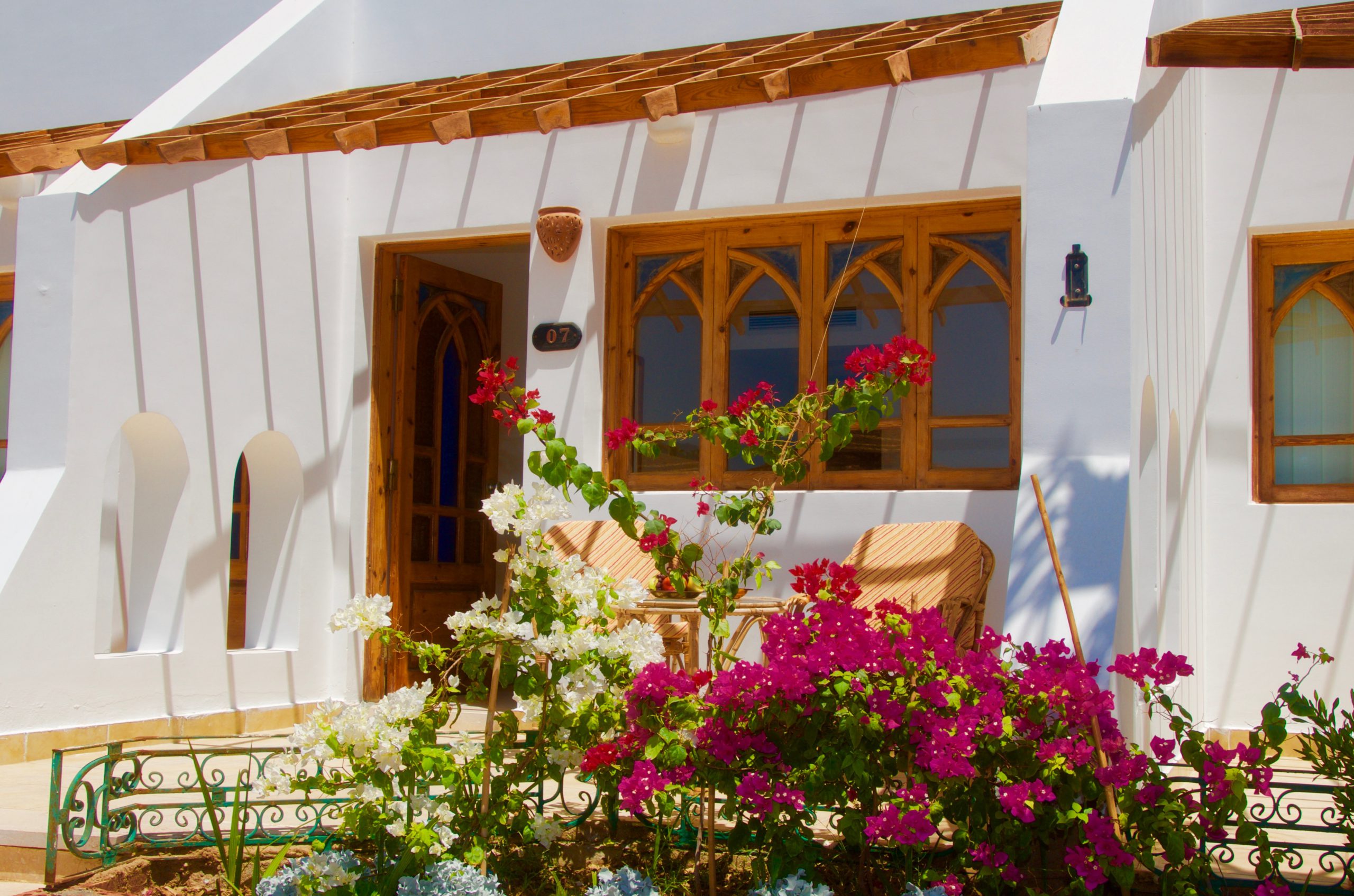 Rooms
The 26 spacious Superior Bungalows all have en-suite bathroom, mini-bar, and air conditioning and are located directly on the beach.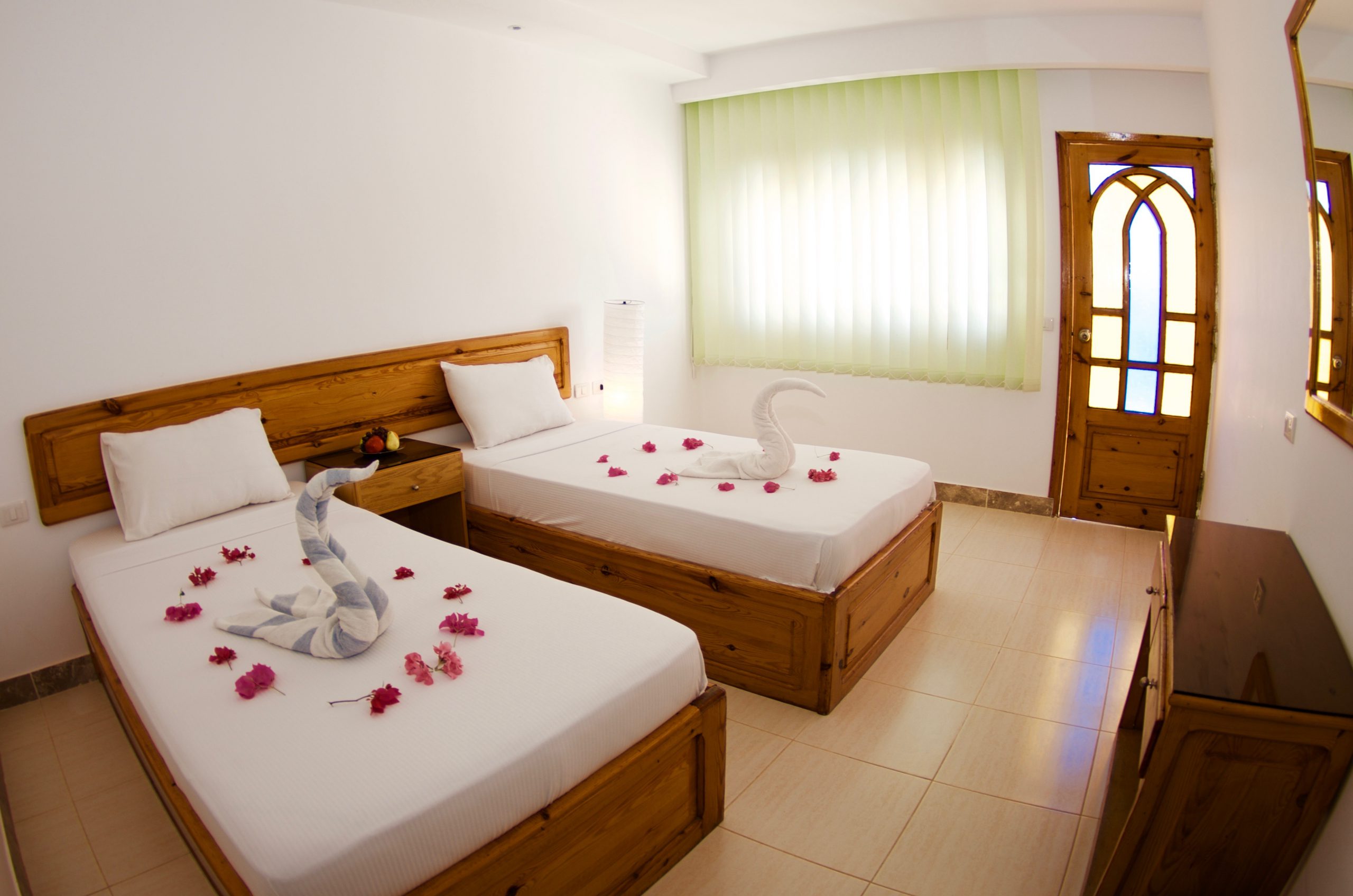 Board/Meals
Breakfast and dinner are served in the main dining room in buffet form with a large variety of Egyptian and international dishes. Lunch can be ordered in the beach bar or at the divers snack bar.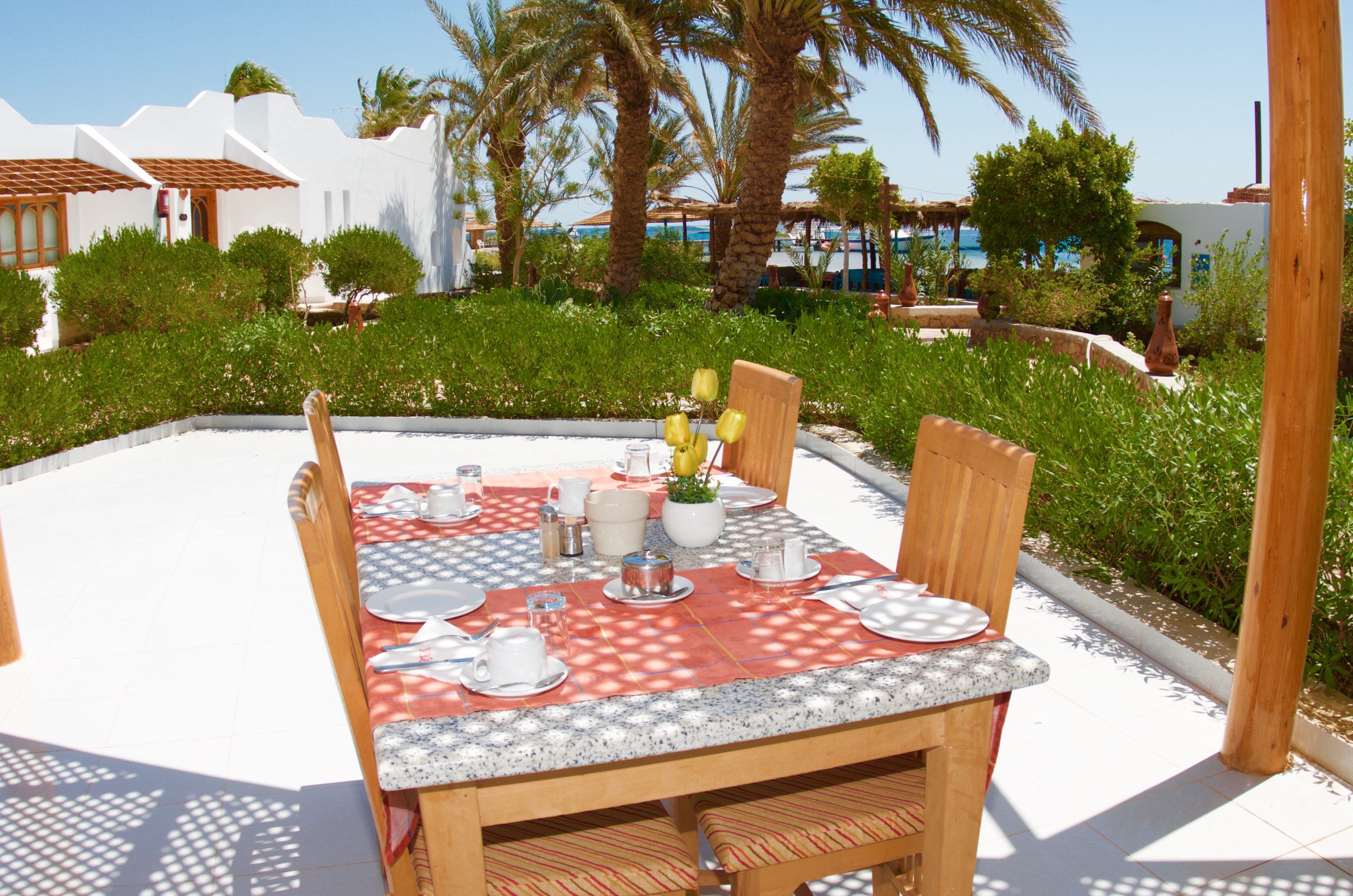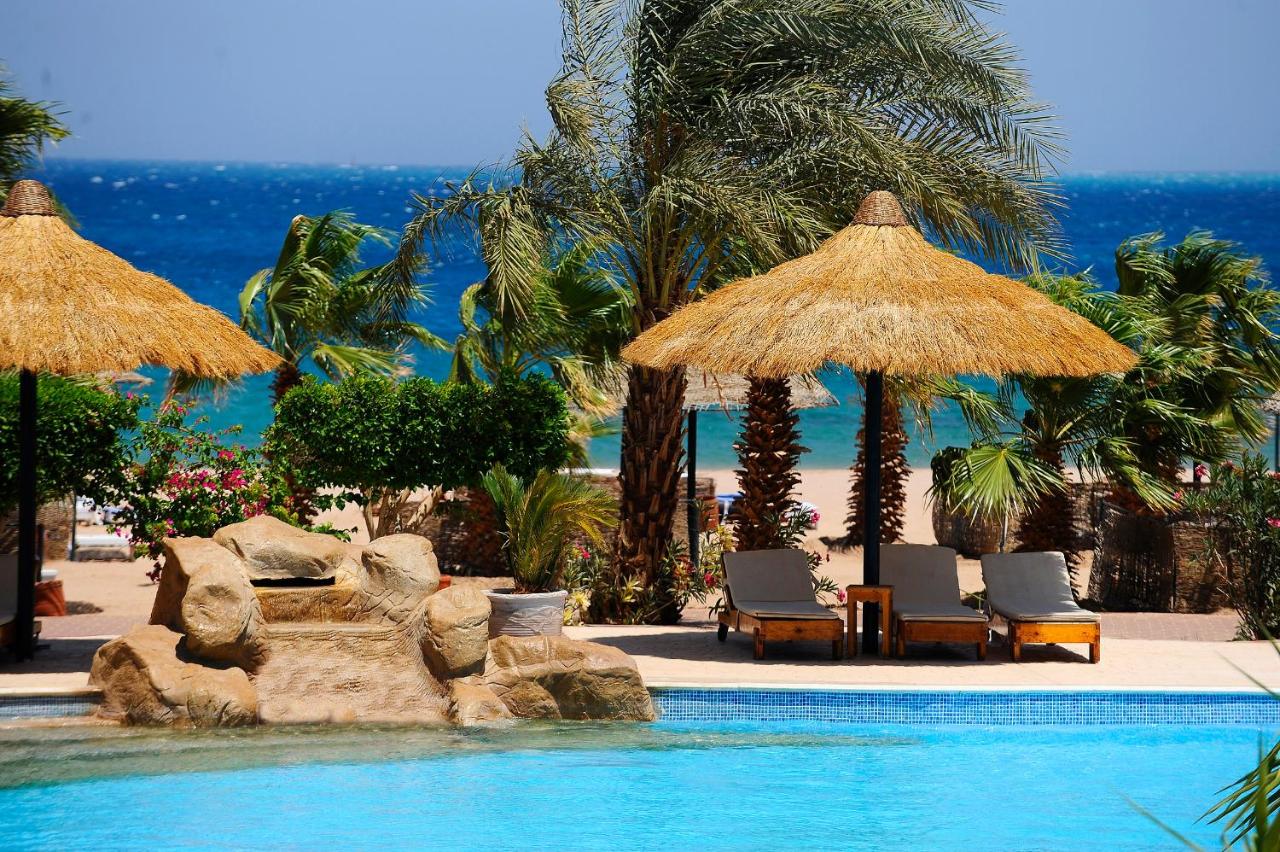 Lotus Bay Resort and Gardens is situated 8km north of Safaga in the sheltered bay. With easy access to both Hurghada airport (approx. 45 mins.) and Safaga (approx. 10 mins.) this is an ideal resort for those with families.
Description
The hotel with 224 available rooms with the choice of sea or garden view is built in Moorish style one storey bungalows. The hotel offers a choice of restaurants and bars, a shopping arcade, a bedouin coffee shop and a disco. The mature lush gardens surround the large swimming pool with toddlers' splash pool, an open terrace, pool snack bar and kids playground. A large reception and lobby area makes checking in easy. Valuables are best keep in the hotel safe and this service is free of charge for all hotel guests.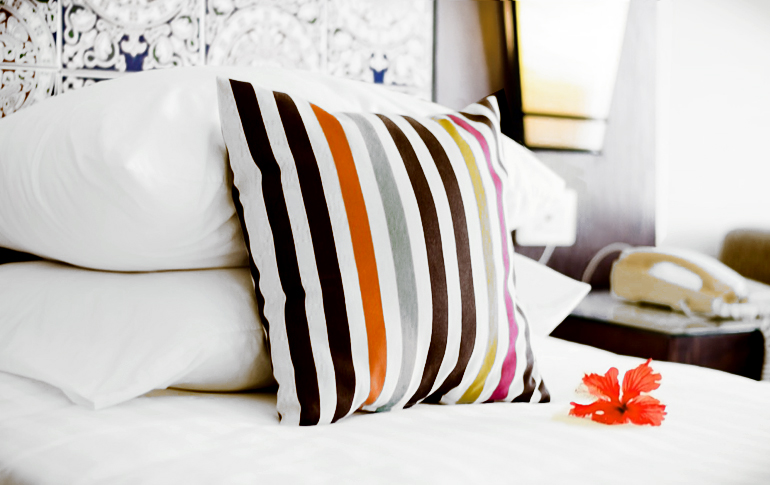 Board/Meals
Breakfast and dinner are served in the main restaurant in buffet form with a large selection of international cusine as well as various Egyptian specialities. For a small supplement you can also upgrade to "All Inclusive" where you will receive in addition a buffet lunch, afternoon tea and snacks aswell as local alcohol and soft drinks from 11am until 11pm.
If you just want lunch occasionally then there are various options available from the pool snack bar, Positana fish restaurant, or the Al Fressco pizzeria so you are sure to find something to suit your appetite.
Sports and Entertainment
Lotus Bay has its own well equipped fitness room that can be used free of charge. For an additional small supplement you will receive access to the squash courts, table tennis area as well as billiard/snooker room. Evening entertainment includes regular shows and beach parties.
Payment in the hotel
Lotus Bay Resort accepts all major currencies aswell as credit cards (VISA,MASTERCARD) traveller cheques can be exchanged in the bank situated in the lobby. Situated in the hotel lobby is a bank with opening hours from 6pm until 9pm. Outside of opening hours there is a cash machine/ATM available.
Kids Activities
The Kids play ground and the shallow kids pool with slide is sure to entertain all ages.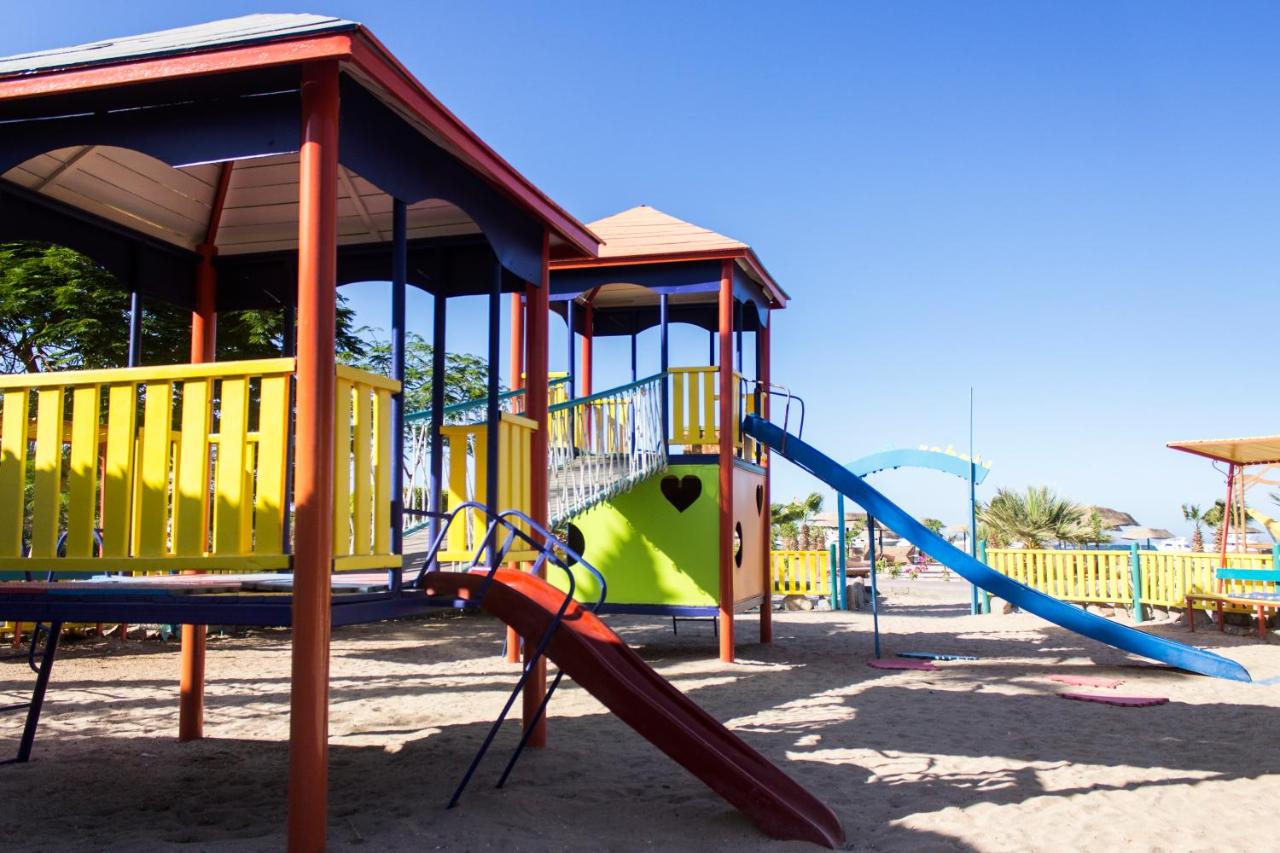 Distance to the ORCA Dive Club
Depending on the location of your bungalow the ORCA Dive Club Safaga is only a 3-10 minute walk along the beach.
Booking & Offers
You have questions regarding your booking for dive packages and courses? Questions about our offers and ORCA Dive Clubs? Our service telephone is available from Monday – Friday from 11:00 to 18:00. Our office in Rosenheim can be reached at the following number: 08031 381 979
LAMAR RESORT ABU SOMA 3,5*

Bookings with ORCA Dive Clubs
Diving programs, dive packages, diving courses, rental equipment and snorkeling you can book with great pre-booking discount directly and online.
Booking offices
For a personal consultation and booking you can contact one of the below booking agent/tour operator/travel agency
ORCA Explorer Reisen
Innaustr. 11
83026 Rosenheim
Telefon: +49 8031 1885-0
Fax: +49 8031 1885-7222
URL:www.orca.de
E-Mail:info@orca.de
Tauchschule Dresden
Leipziger Str. 28
D-01127 Dresden
Tel. 0049 (0) 351 4162304
Fax 0049 (0) 351 4162332
URL:www.tauchschule-dresden.de
E-Mail:info@tauchschule-dresden.de
Schauinsland
Schauinsland-Reisen GmbH
Stresemannstr. 80
47051 Duisburg
Tel: 0049 (0) 203 / 99 40 5 – 0
URL:www.schauinsland-reisen.de
E-Mail:slr@schauinsland-reisen.de
sun+fun Sportreisen GmbH
Franz-Joseph-Str 43
80801 München
Tel: +49 89 20 80 76 162
Fax: +49 89 34 66 44
URL: www.sunandfun.com/tauchen
E-Mail: tauchen@sunandfun.com
light and blue GmbH
Pichlmayrstr.17a
83024 Rosenheim
Tel: 0049 (0) 8031 31992
Fax: 0049 (0) 8031 31991
URL:www.lightandblue.de
E-Mail:info@lightandblue.de
Travel Team GmbH & Co. KG & Action Sport Tauchreisen
Hersbrucker Str. 23
91244 Reichenschwand, Germany
Tel. +49 9151 726960
Fax +49 9151 7269633
URL: www.action-sport.de
URL: www.action-sport-tauchreisen.de
E-Mail: info@action-sport.de
sun+fun Sportreisen
Tel: 041-2020060
URL:www.sunandfun.de
E-Mail: anfrage@tauchreisen.de
About Diving AG
Zihlstrasse 80
CH-2560 Nidau
Tel. 0041 (0) 32 3253666
Fax 0041 (0) 32 3253669
URL:www.about-diving.com
E-Mail: info@about-diving.ch
Seleger SportsTravel
Hasenbühltr.25
8910 Affoltern a.A.
URL:www.seleger.ch
E-Mail: info@seleger.ch
sun+fun Sportreisen
Tel: 01-3151140
URL:www.sunandfun.de
E-Mail: anfrage@tauchreisen.de
Tropical Seas
Röntgenstrasse 5/1
AT 9500 Villach
Tel:0043 4242 230555
Fax: 0043 4242 23066
URL:www.tropical-seas.at
E-Mail: office@tropical-seas.at
Diving World
Bovendorpsstraat 7a
NL – 7038 CH Zeddam
Tel. 0031-314-653180
Fax 0031-314-653181
URL:www.divingworld.nl
E-Mail: info@divingworld.nl
SeaSee Travel BV
Herenstraat 29
3621 AP Breukelen
Tel: 0346 266 080
Fax: 0346 257 196
URL:www.seaseetravel.nl
E-Mail: info@seaseetravel.nl
Ultramarina
37 reu St.Leonard BP33221
F – 44032 Nantes
Tel. 0033-2-40893444
Fax 0033-2-40897489
URL:www.ultramarina.com
E-Mail: info@ultramarina.com
Diving Travel Network
Kungsgatan 8B
972 34 Lulea
Tel: 0046 920228589
URL:www.divingtravel.se
E-Mail: info@divingtravel.se
Trails – Wild Water
Steenweg Op Vilvoorde 359
1745 Opwijk
Tel: 0032(0)474471349
URL:www.wildwater.be
E-Mail: info@wildwater.be