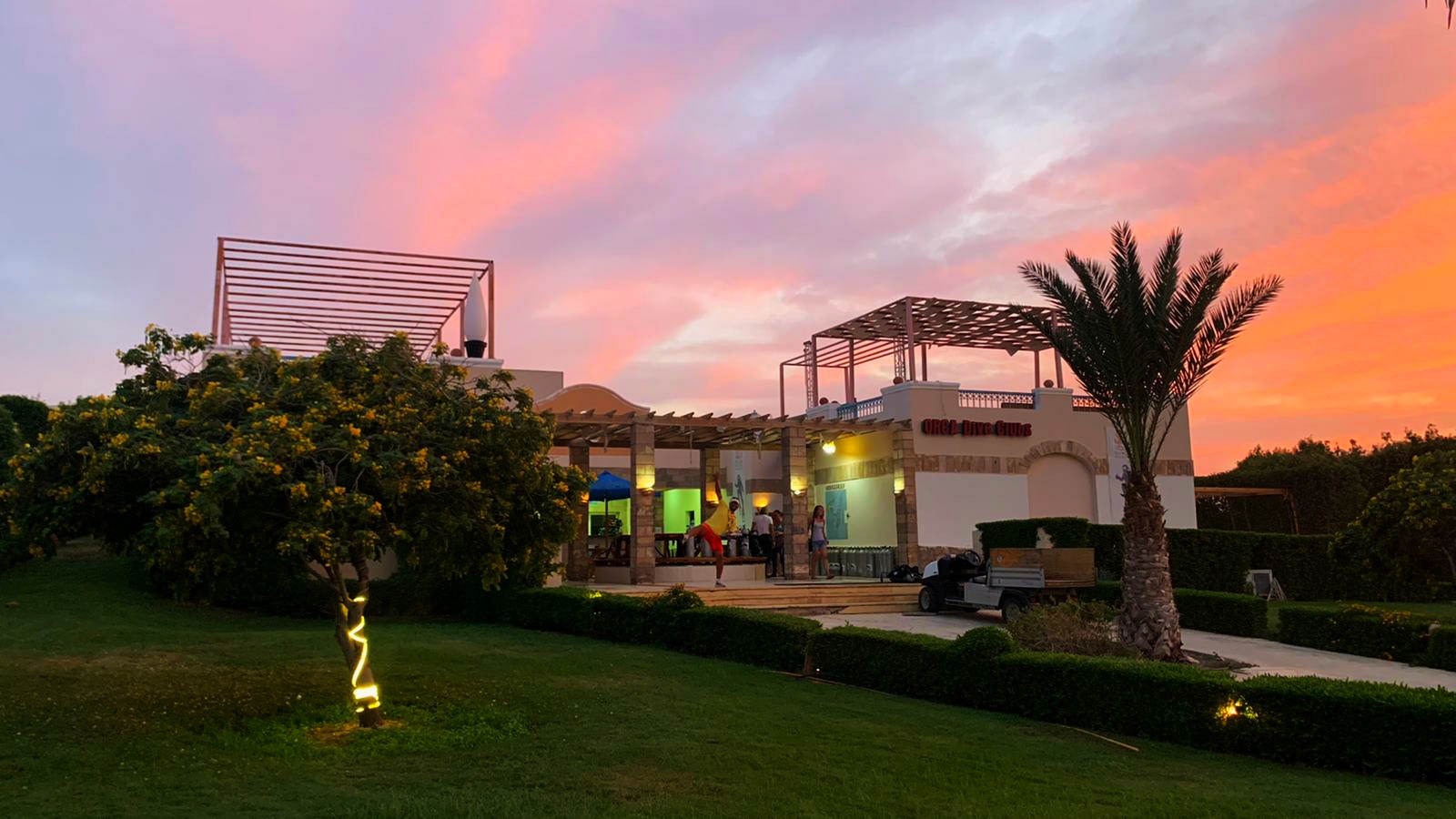 A sign announces "Here begins the stress free zone" upon entering the Concorde Moreen, a five-star resort about halfway between Port Ghaleb and Marsa Alam. Here one of the more recently established ORCA diving centres is based. It works closely with the nearby base at the Golden Tulip, so that certain dive sites and a part of the infrastructure can be shared.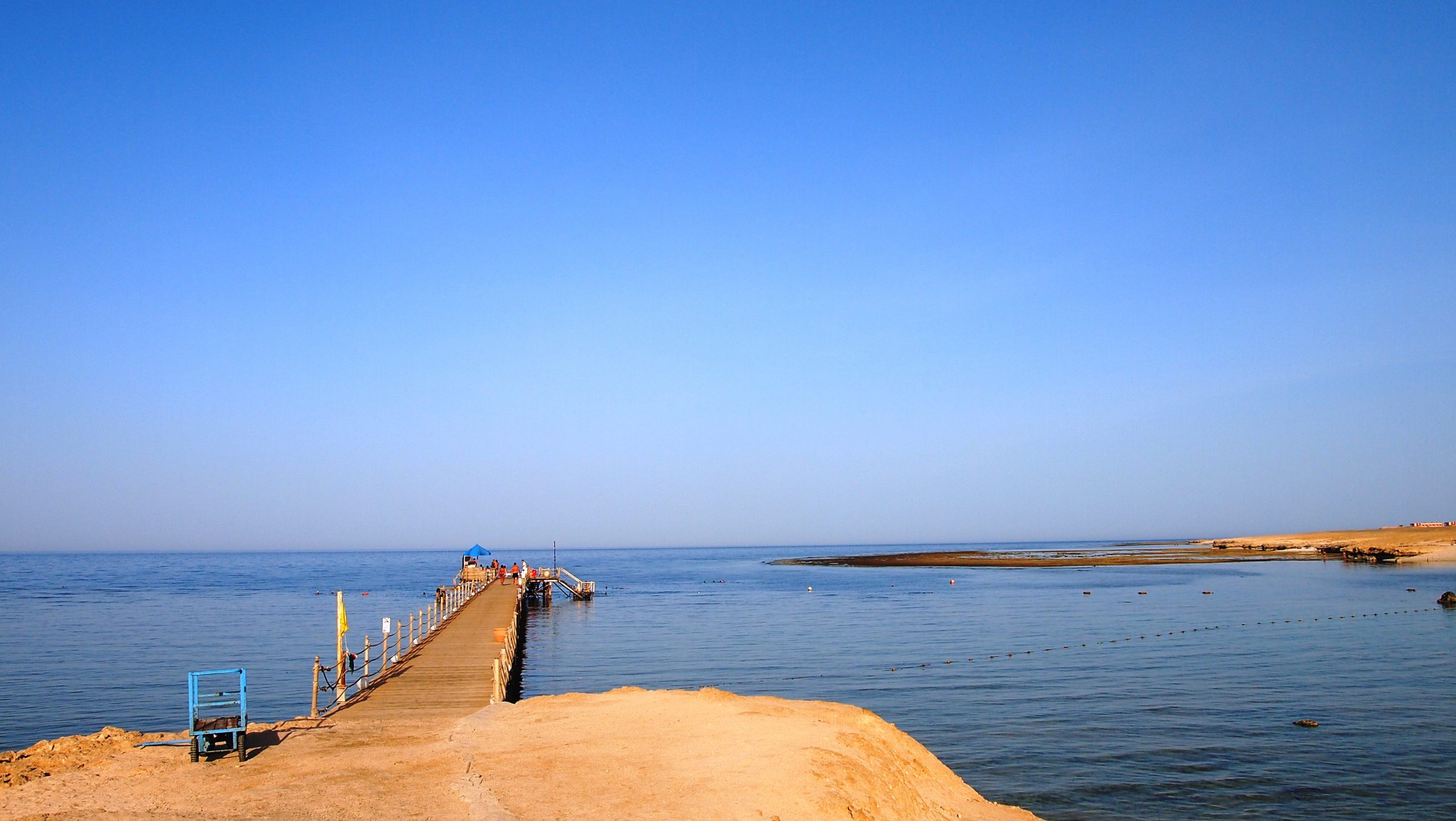 ORCA Dive Club
At the base of Concorde Moreen the motto is easy diving. The equipment is brought to the access with an electric golf cart. Two powerful compressors perform their service here. Nitrox is also on offer. Rental equipment sets are available in sufficient numbers. Dives are done with aluminium bottles of 12 or 15 litres. Provisions are also made for children. There are smaller 8 – or 10-litre bottles for them.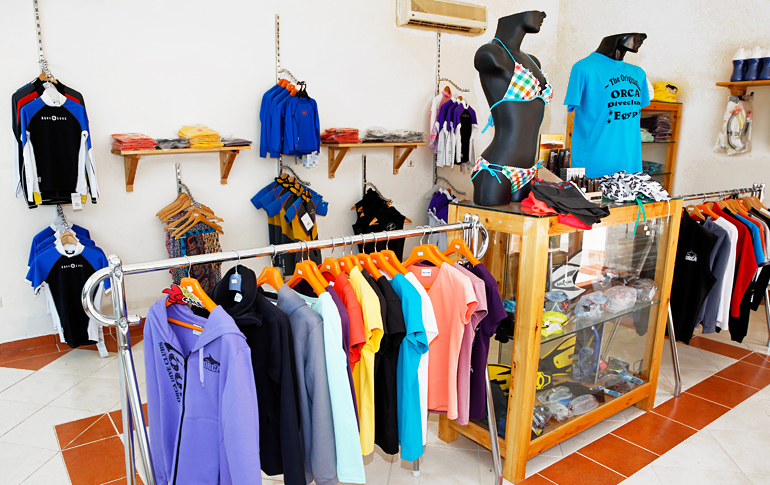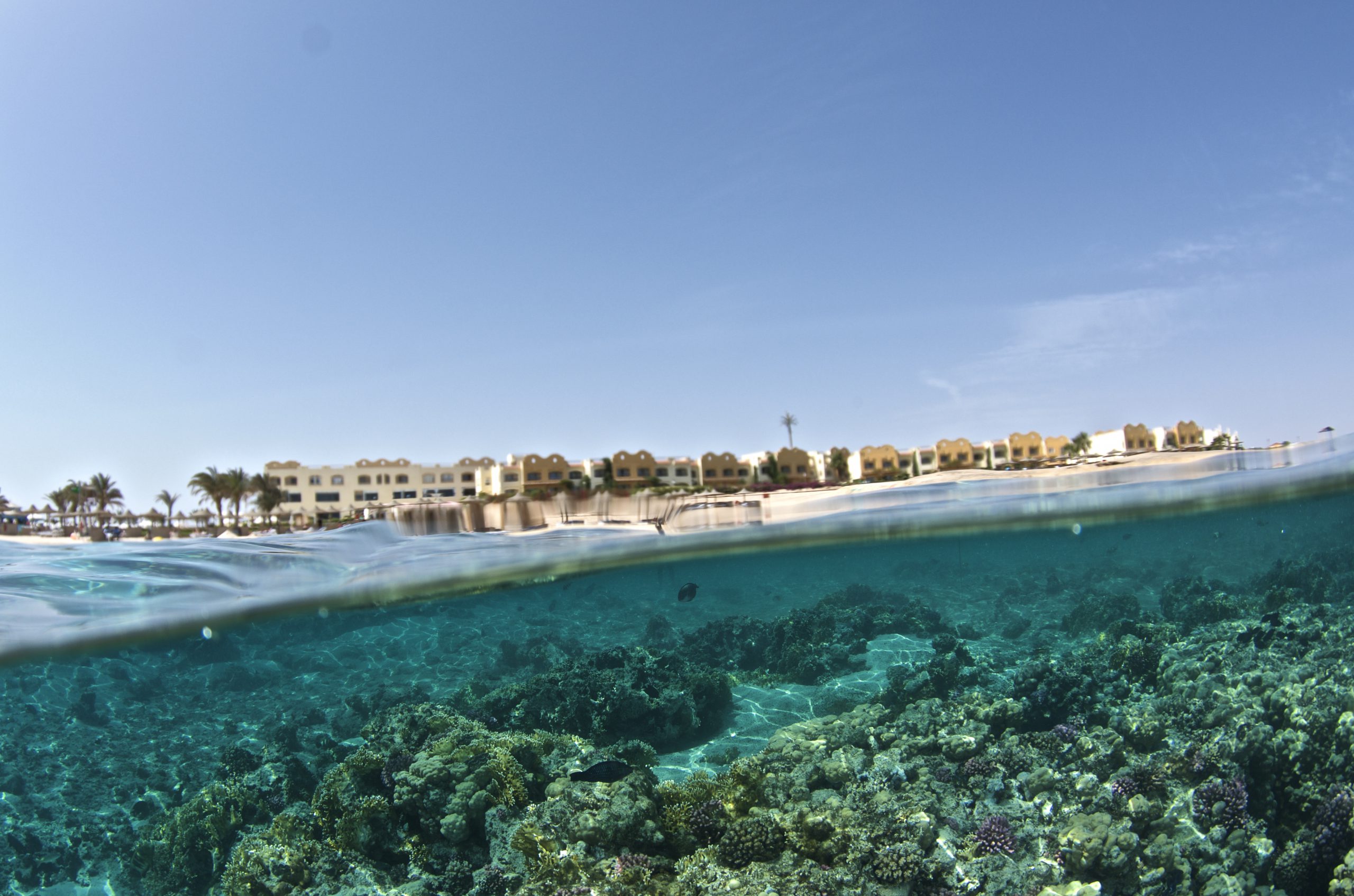 House reef, diving boats and dive sites
The house reef in the bay of Abi Dabour is already a highlight. You can access the water either from the 40 metre long jetty or directly from the beach were a small canon leads to the actual reef.
The dive boat for trips to the legendary Elphinstone or Shaab Samadai is located in Marsa Alam. The minibus takes you to Abu Dabab, where you always have the chance to encounter a dugong, large turtles or cookiecutter sharks.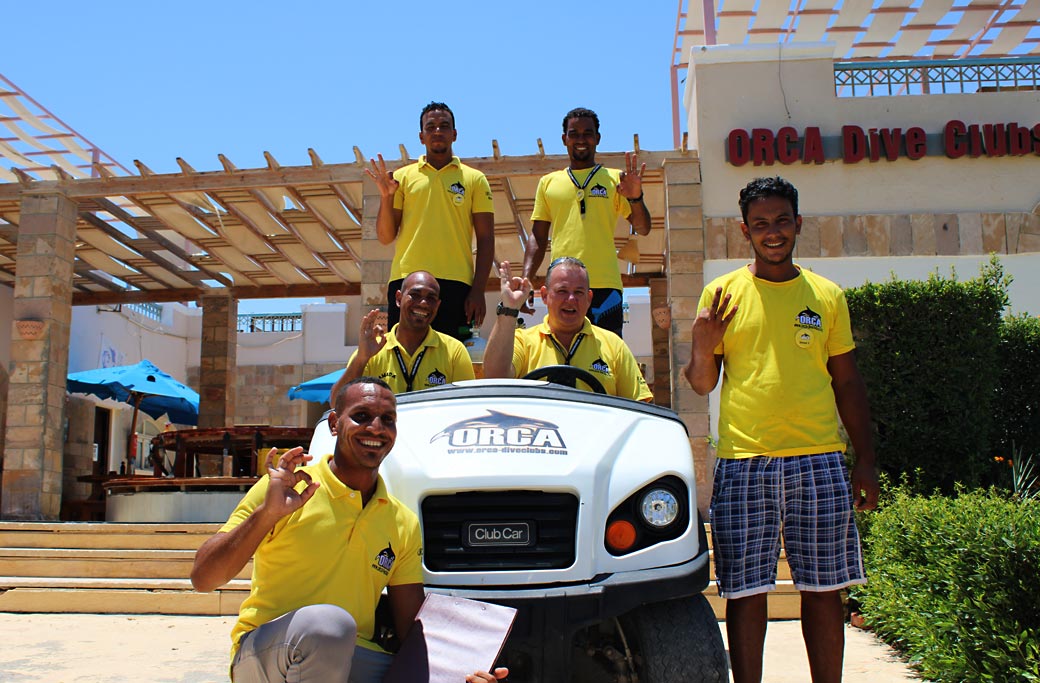 360° Panorama
Enjoy the 360 ° tour through our ORCA Dive Club and dive into the Red Sea. If you have a VR glasses and want to have a full view, please click here: 360° Panorama
CONCORDE MOREEN BEACH RESORT & SPA MARSA ALAM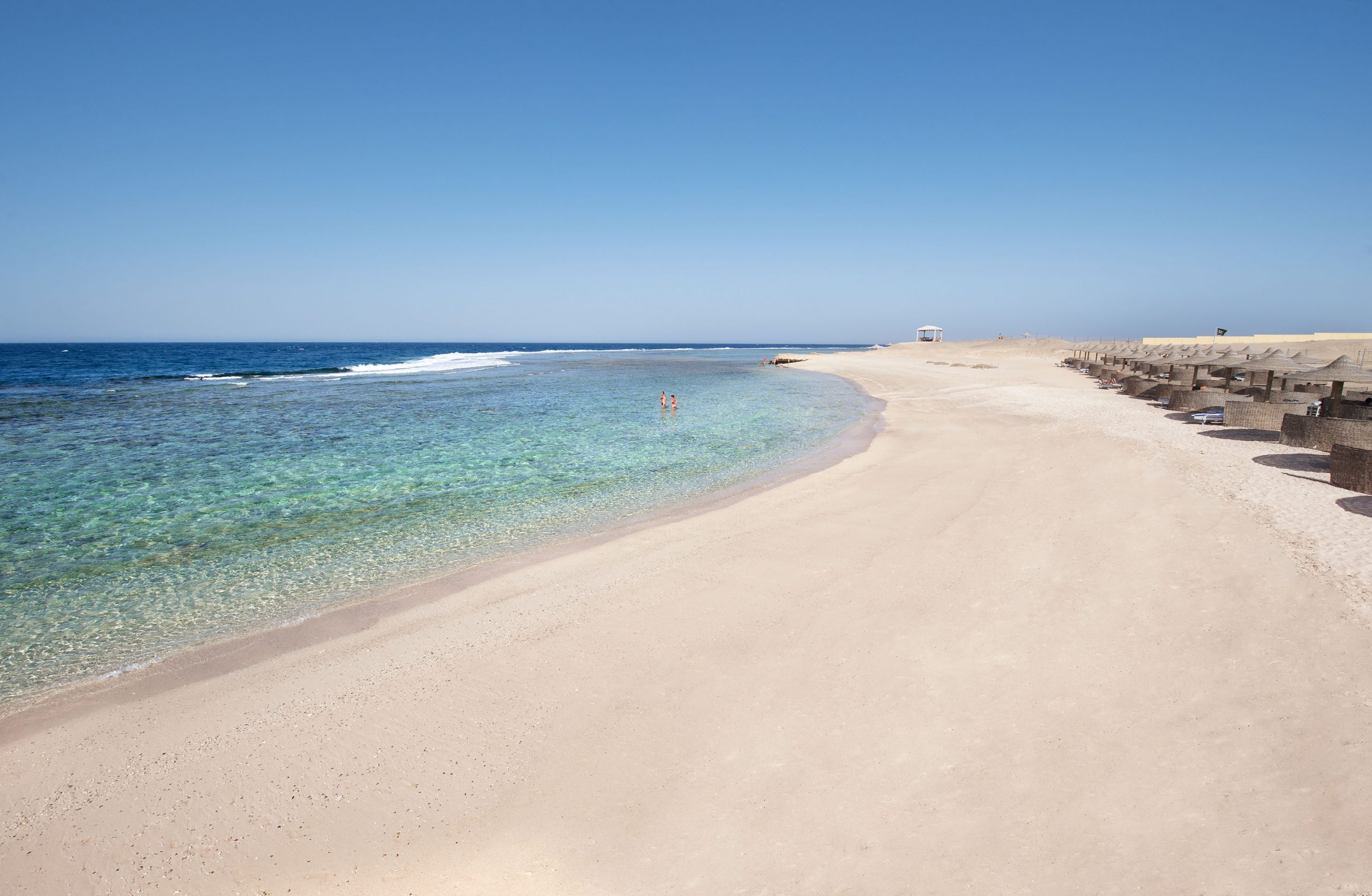 Concorde Moreen Beach Resort is located 24km from Marsa Alam International Airport. Situated in heart of Abu Dabab Bay, enjoying a spectacular panoramic view of the Red Sea coast, an upscale beach front luxury resort built on wide lush gardens, overlooking 800 meters beach, The bay is housing one of the most prime diving spots in the area with its natural underwater wonders. It features a private beach and an outdoor swimming pool. All the hotel areas are covered with a free WIFI internet servic includes the beach,swimming pools & restaurants.An upscale 5 stars resort offering relaxing accommodation in the fresh modern contemporary furnished style. Each room features a private balcony with sea and garden view. It includes a seating area, a flat-screen TV and a minibar. The resort houses one of the most prime diving spots in the area. Guests can enjoy a rejuvenating massage or an energizing workout at the gym. Youngsters can play in the playground. A buffet-style breakfast is served daily, while -la-carte specialties are served in the evening, by the beach restaurant. The lobby and beach bar serves alcoholic drinks. 24-Hour room service is available.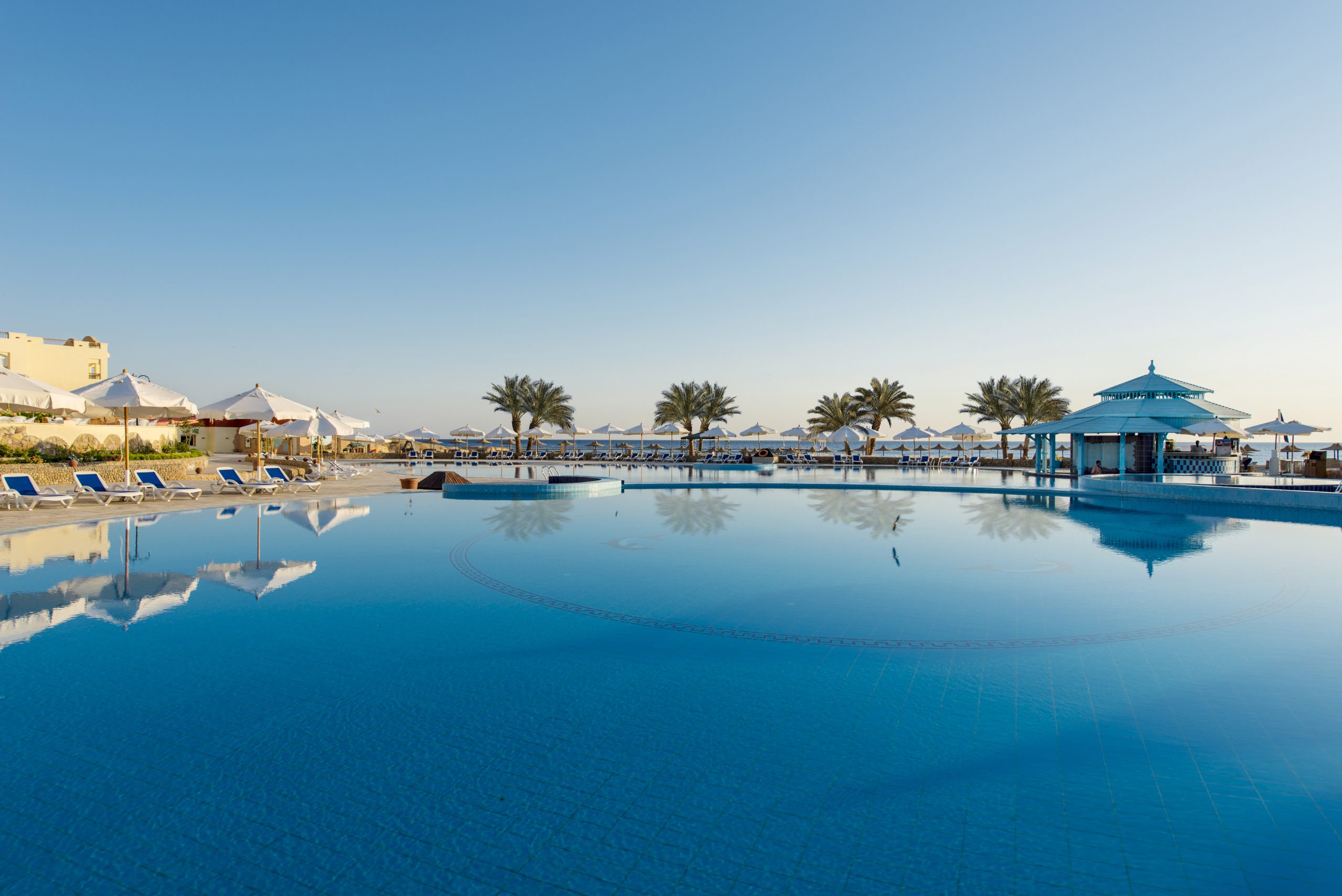 Rooms
The rooms are colourful and modern. All rooms have a spacious en-suite bathroom, air-conditioning, TV, Safe deposit box and free Wi-Fi.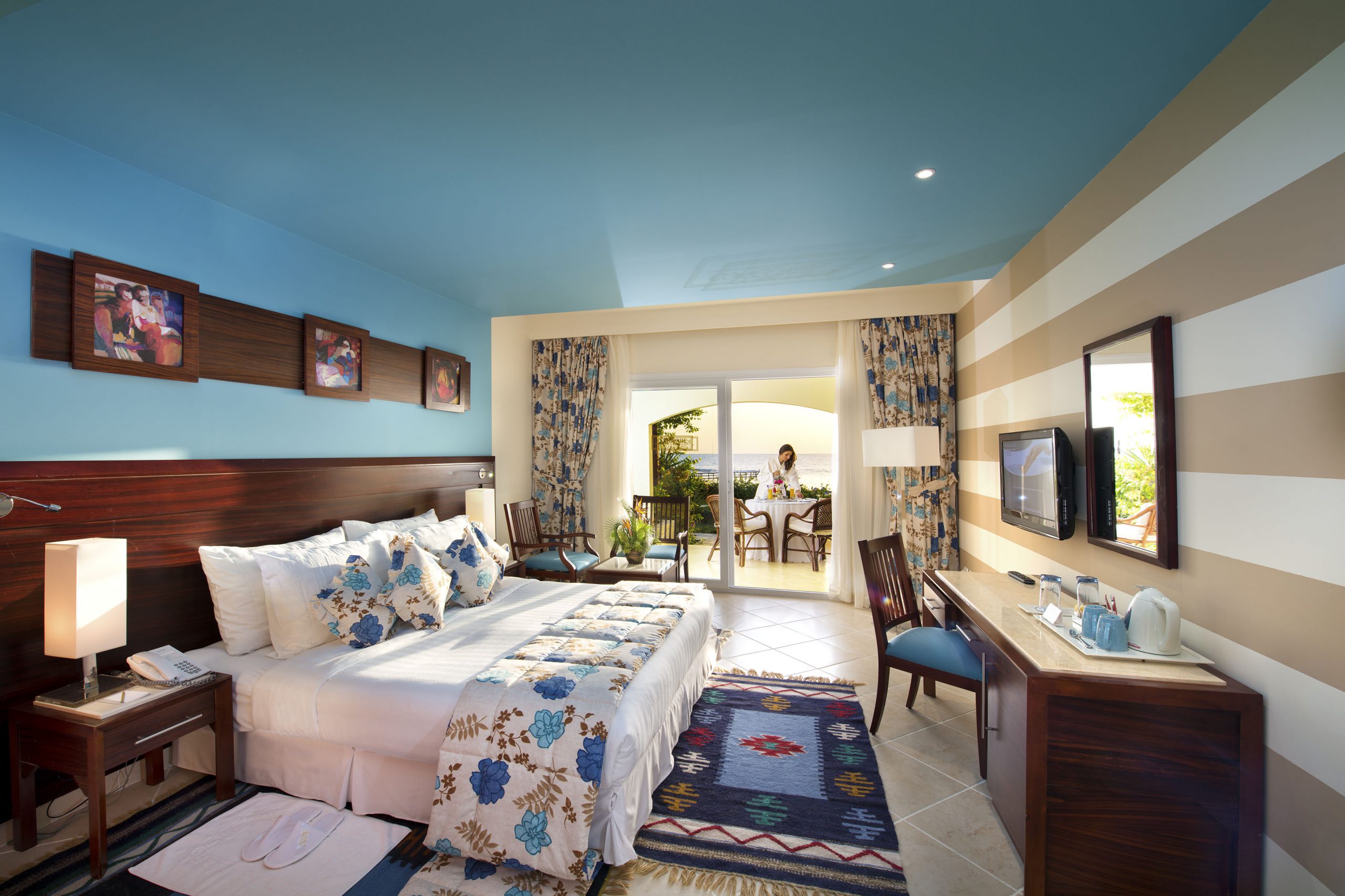 Catering
All Inclusive: Breakfast, lunch and dinner, snacks at the pool bar, softdrinks and local alcoholic beverages included. A la carte Menu in the restaurants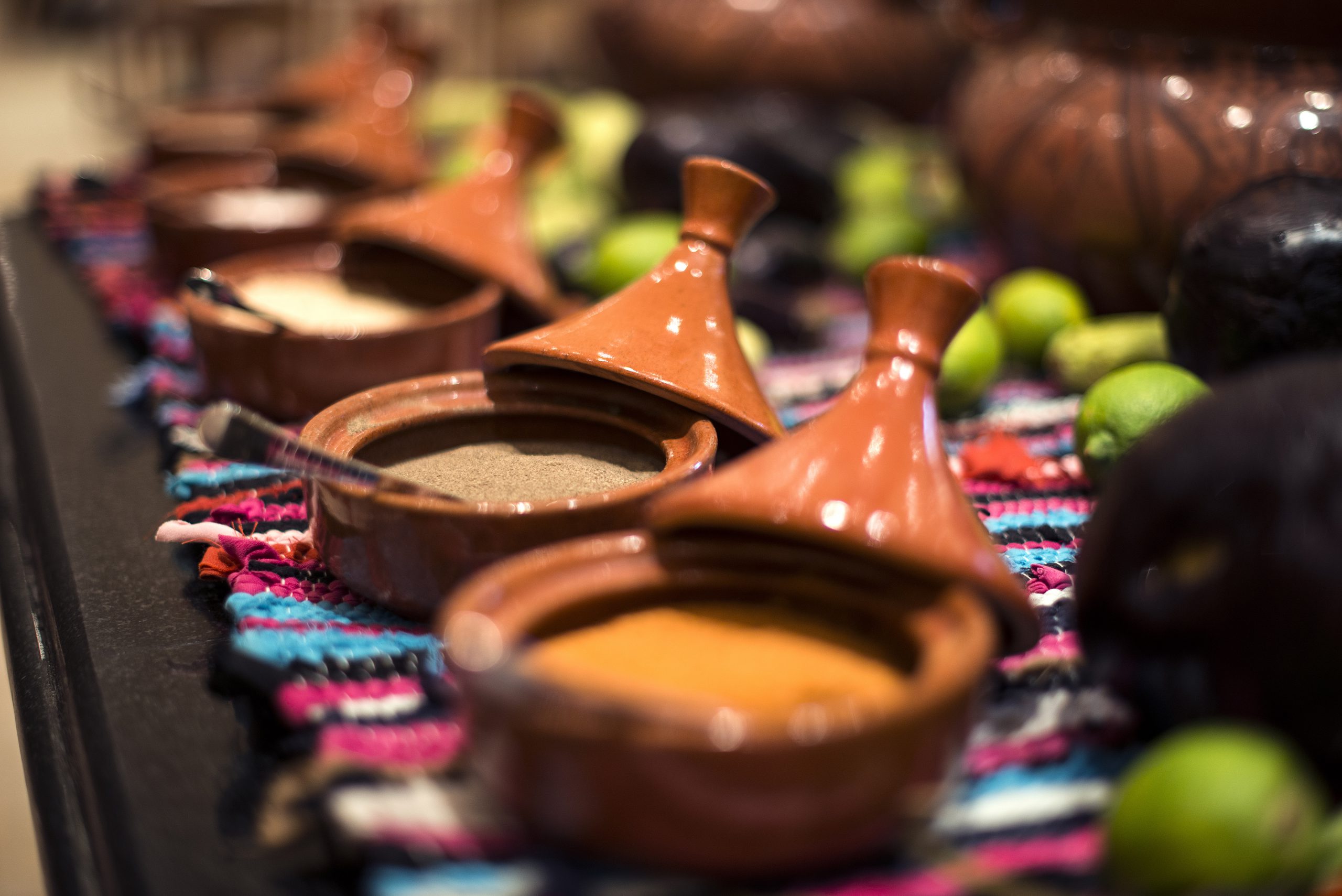 Sport / Entertainment
The hotel has a Spa Center with Turkish Bath and Indoor Jacuzzi, also a Fitness Room with sea view, Beach Volleyball, Beach Tennis, horse riding and of course snorkeling and diving.
Kids
A mini clubs with Baby-/and childcare, toys and a playground outdoors. Even the small ones will have an unforgettable holiday.
Booking & Offers
You have questions regarding your booking for dive packages and courses? Questions about our offers and ORCA Dive Clubs? Our service telephone is available from Monday – Friday from 11:00 to 18:00. Our office in Rosenheim can be reached at the following number: 08031 381 979
CONCORDE MOREEN BEACH RESORT & SPA MARSA ALAM
Bookings with ORCA Dive Clubs
Diving programs, dive packages, diving courses, rental equipment and snorkeling you can book with great pre-booking discount directly and online.
Booking offices
For a personal consultation and booking you can contact one of the below booking agent/tour operator/travel agency
ORCA Explorer Reisen
Innaustr. 11
83026 Rosenheim
Telefon: +49 8031 1885-0
Fax: +49 8031 1885-7222
URL:www.orca.de
E-Mail:info@orca.de
Tauchschule Dresden
Leipziger Str. 28
D-01127 Dresden
Tel. 0049 (0) 351 4162304
Fax 0049 (0) 351 4162332
URL:www.tauchschule-dresden.de
E-Mail:info@tauchschule-dresden.de
Schauinsland
Schauinsland-Reisen GmbH
Stresemannstr. 80
47051 Duisburg
Tel: 0049 (0) 203 / 99 40 5 – 0
URL:www.schauinsland-reisen.de
E-Mail:slr@schauinsland-reisen.de
SAMreisen
Friedrich-Rech-Strasse 268
56566 Neuwied
Tel: 0049 2631 9559-0
Fax: 0049 2631 9559-15
URL:www.samreisen.de
E-Mail: dialog@samreisen.de
sun+fun Sportreisen GmbH
Franz-Joseph-Str 43
80801 München
Tel: +49 89 20 80 76 162
Fax: +49 89 34 66 44
URL: www.sunandfun.com/tauchen
E-Mail: tauchen@sunandfun.com
light and blue GmbH
Pichlmayrstr.17a
83024 Rosenheim
Tel: 0049 (0) 8031 31992
Fax: 0049 (0) 8031 31991
URL:www.lightandblue.de
E-Mail:info@lightandblue.de
Travel Team GmbH & Co. KG & Action Sport Tauchreisen
Hersbrucker Str. 23
91244 Reichenschwand, Germany
Tel. +49 9151 726960
Fax +49 9151 7269633
URL: www.action-sport.de
URL: www.action-sport-tauchreisen.de
E-Mail: info@action-sport.de
sun+fun Sportreisen
Tel: 041-2020060
URL:www.sunandfun.de
E-Mail: anfrage@tauchreisen.de
About Diving AG
Zihlstrasse 80
CH-2560 Nidau
Tel. 0041 (0) 32 3253666
Fax 0041 (0) 32 3253669
URL:www.about-diving.com
E-Mail: info@about-diving.ch
Seleger SportsTravel
Hasenbühltr.25
8910 Affoltern a.A.
URL:www.seleger.ch
E-Mail: info@seleger.ch
sun+fun Sportreisen
Tel: 01-3151140
URL:www.sunandfun.de
E-Mail: anfrage@tauchreisen.de
Tropical Seas
Röntgenstrasse 5/1
AT 9500 Villach
Tel:0043 4242 230555
Fax: 0043 4242 23066
URL:www.tropical-seas.at
E-Mail: office@tropical-seas.at
Diving World
Bovendorpsstraat 7a
NL – 7038 CH Zeddam
Tel. 0031-314-653180
Fax 0031-314-653181
URL:www.divingworld.nl
E-Mail: info@divingworld.nl
SeaSee Travel BV
Herenstraat 29
3621 AP Breukelen
Tel: 0346 266 080
Fax: 0346 257 196
URL:www.seaseetravel.nl
E-Mail: info@seaseetravel.nl
Ultramarina
37 reu St.Leonard BP33221
F – 44032 Nantes
Tel. 0033-2-40893444
Fax 0033-2-40897489
URL:www.ultramarina.com
E-Mail: info@ultramarina.com
Diving Travel Network
Kungsgatan 8B
972 34 Lulea
Tel: 0046 920228589
URL:www.divingtravel.se
E-Mail: info@divingtravel.se
Trails – Wild Water
Steenweg Op Vilvoorde 359
1745 Opwijk
Tel: 0032(0)474471349
URL:www.wildwater.be
E-Mail: info@wildwater.be