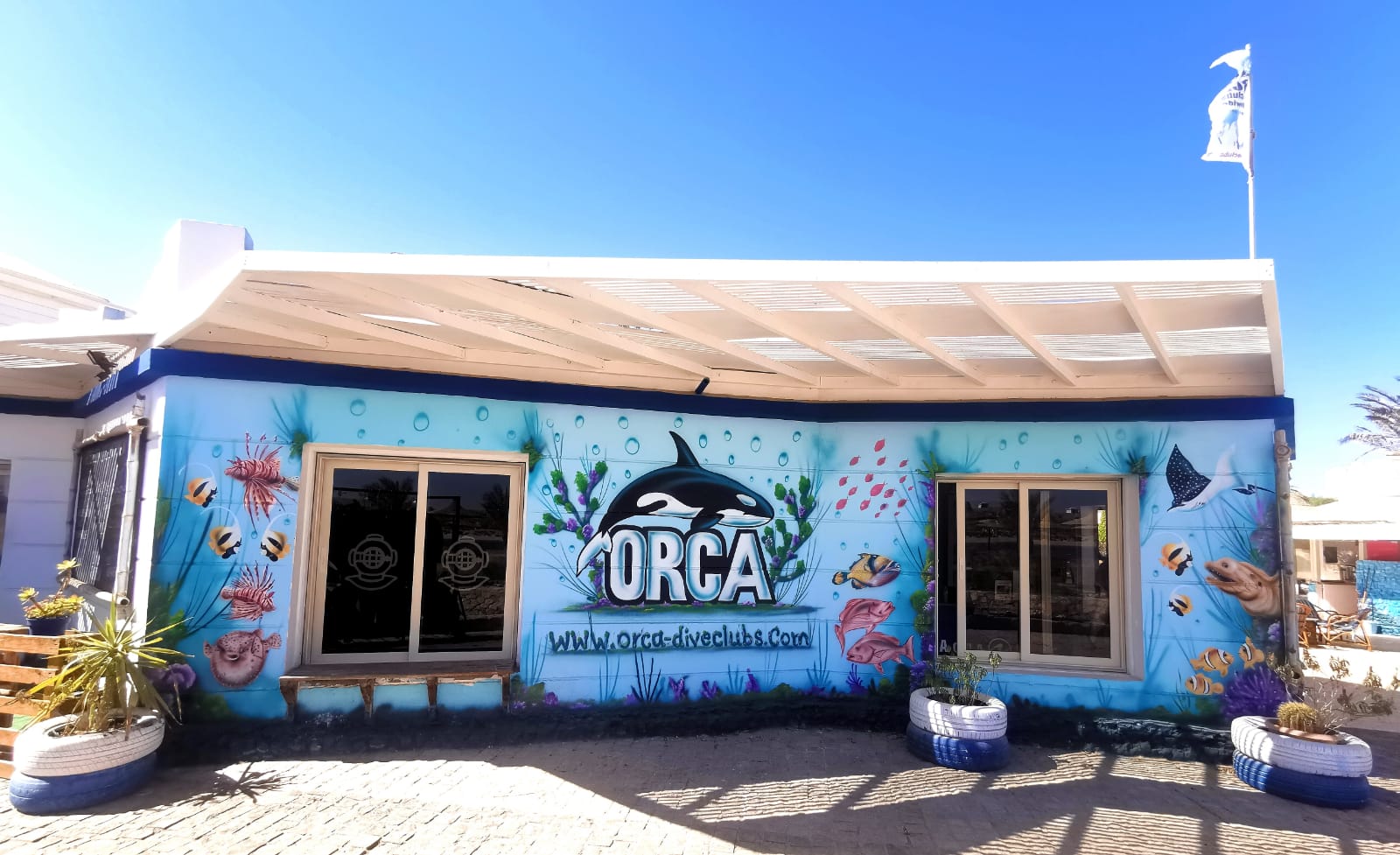 A small resort with a bay only for divers – it sounds like a wonderful dream but is the reality at Coral Garden. The bungalow resort in Gassous Bay with 32 rooms is managed by ORCA and has been tailor-made for the needs of divers. The unique entertainment programme is garden chess. Those of you, who want to have peace and quiet – apart from diving naturally – have come to the right place.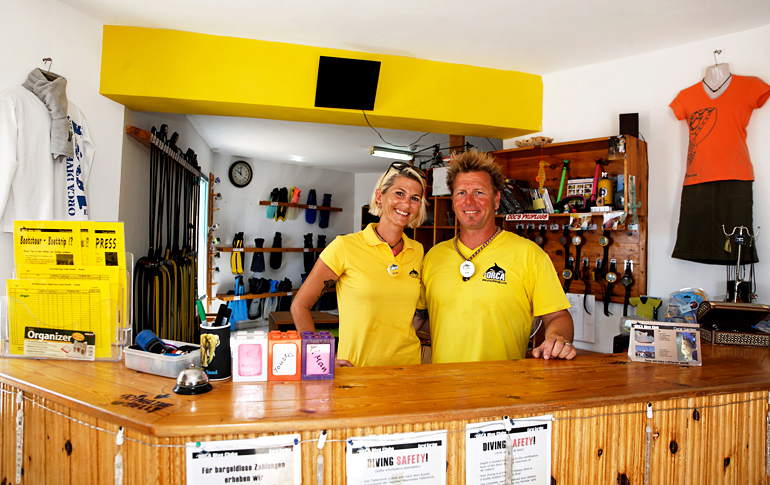 ORCA Dive Club
There is probably no diving centre in Egypt that has a shorter distance into the water than Coral Garden. 20 complete equipment sets are available for loan, 120 twelve and fifteen litres steel bottles are available to the divers. In addition to a Bauer compressor, that achieves 340 l/min, there is also a unit that provides Nitrox.
House reef, diving boats and dive sites
It's only a few steps into the water from the base. At only five metres, divers will find a large seagrass bed. If you are lucky, you will encounter one of at least three seahorses who live there. The reefs into the bay slope steeply in the north and south and enable fantastic dives. Furthermore, we also offer trips with the minibus to additional rather lonely dive sites between Coral Garden and El Quesier. Boat trips to the outer reefs at Safaga are also possible for guests at Coral Garden.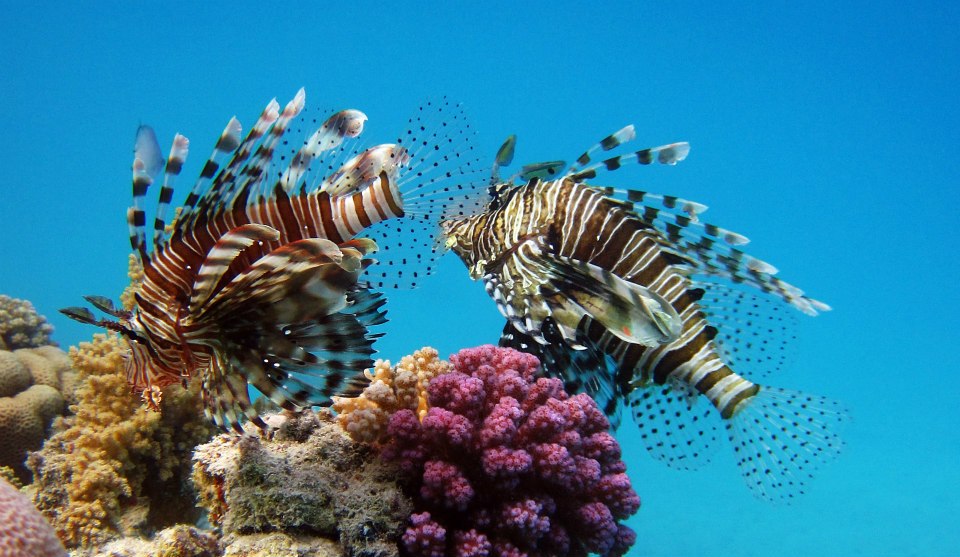 360° Panorama
Enjoy the 360 ° tour through our ORCA Dive Club and dive into the Red Sea. If you have a VR glasses and want to have a full view, please click here: 360° Panorama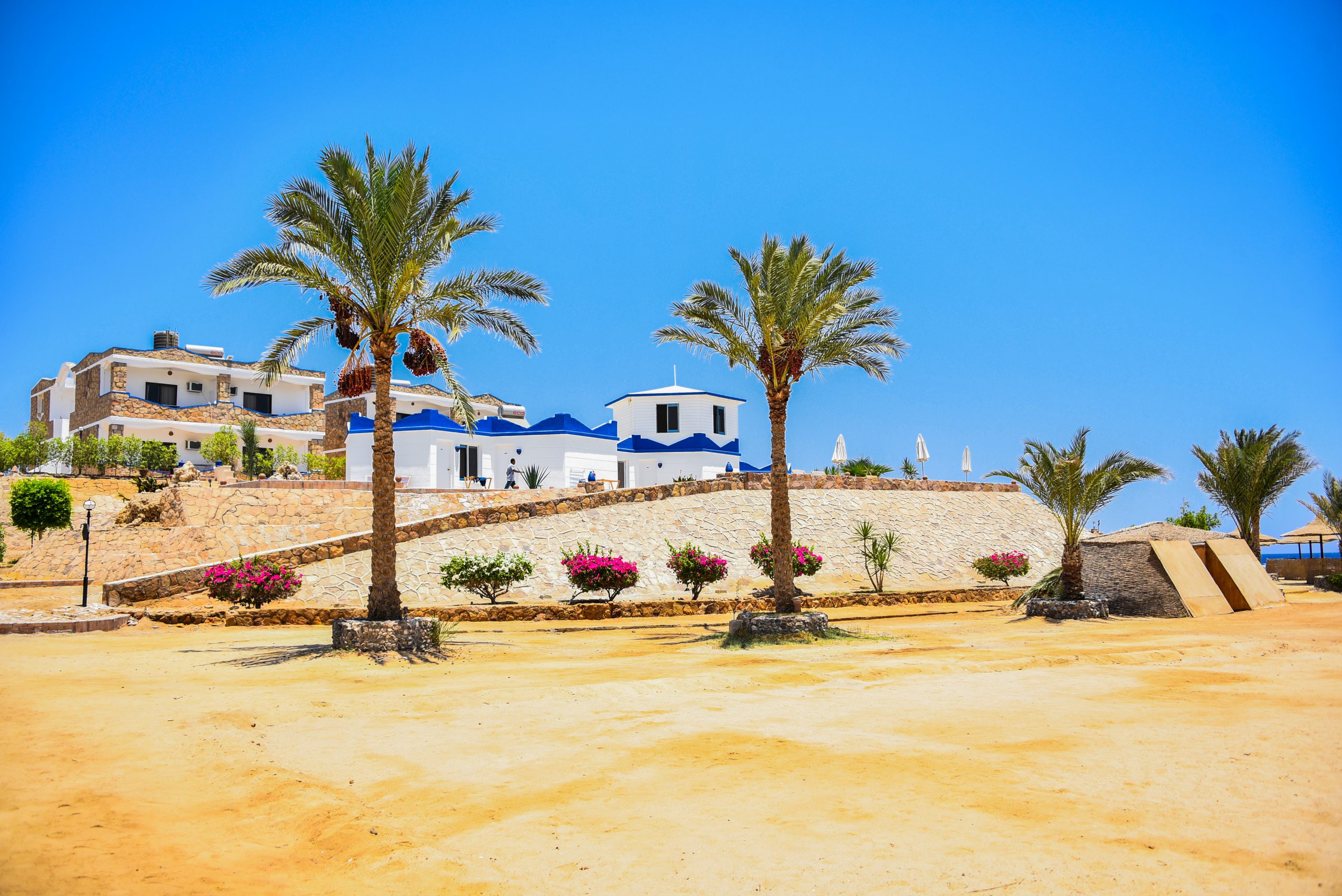 On the northern end of the 600 meter long sandy beach of Gassous Bay, about 22 kilometers south of Safaga. Transfer time from Hurghada airport for about an hour, from Marsa Alam about 2.5 hours. One of the best diving and snorkeling coves in the northern Red Sea!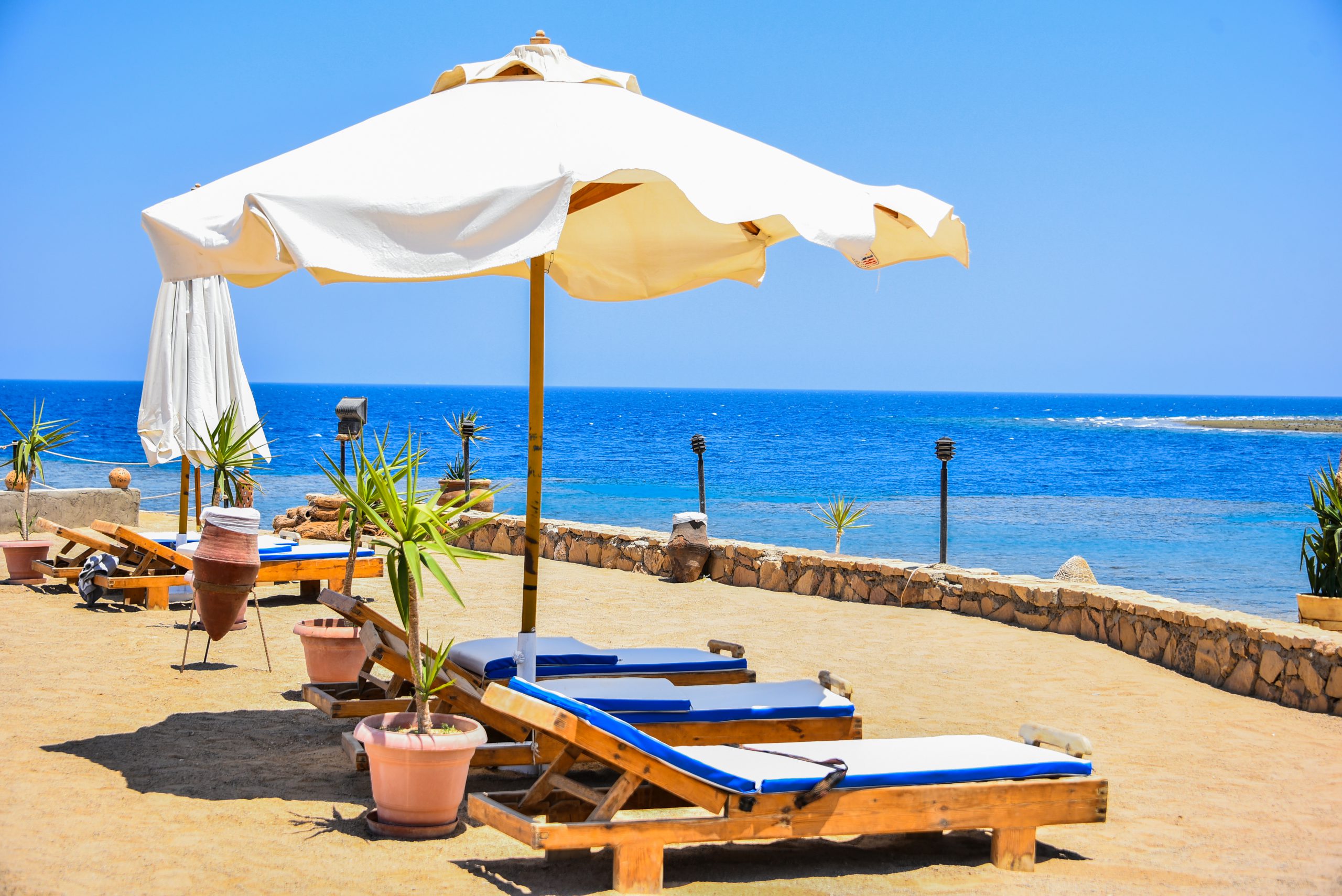 Description
Spacious bungalow village with a total of 39 residential units in main house and onestory bungalows.
Reception hall with reception, a small bazaar with souvenir shop / kiosk, terrace with lovely views over the bay, beach bar, children's playground. Diving school.
Beds, mattresses and umbrellas on the beach are included.
Free Wlan at the beach bar.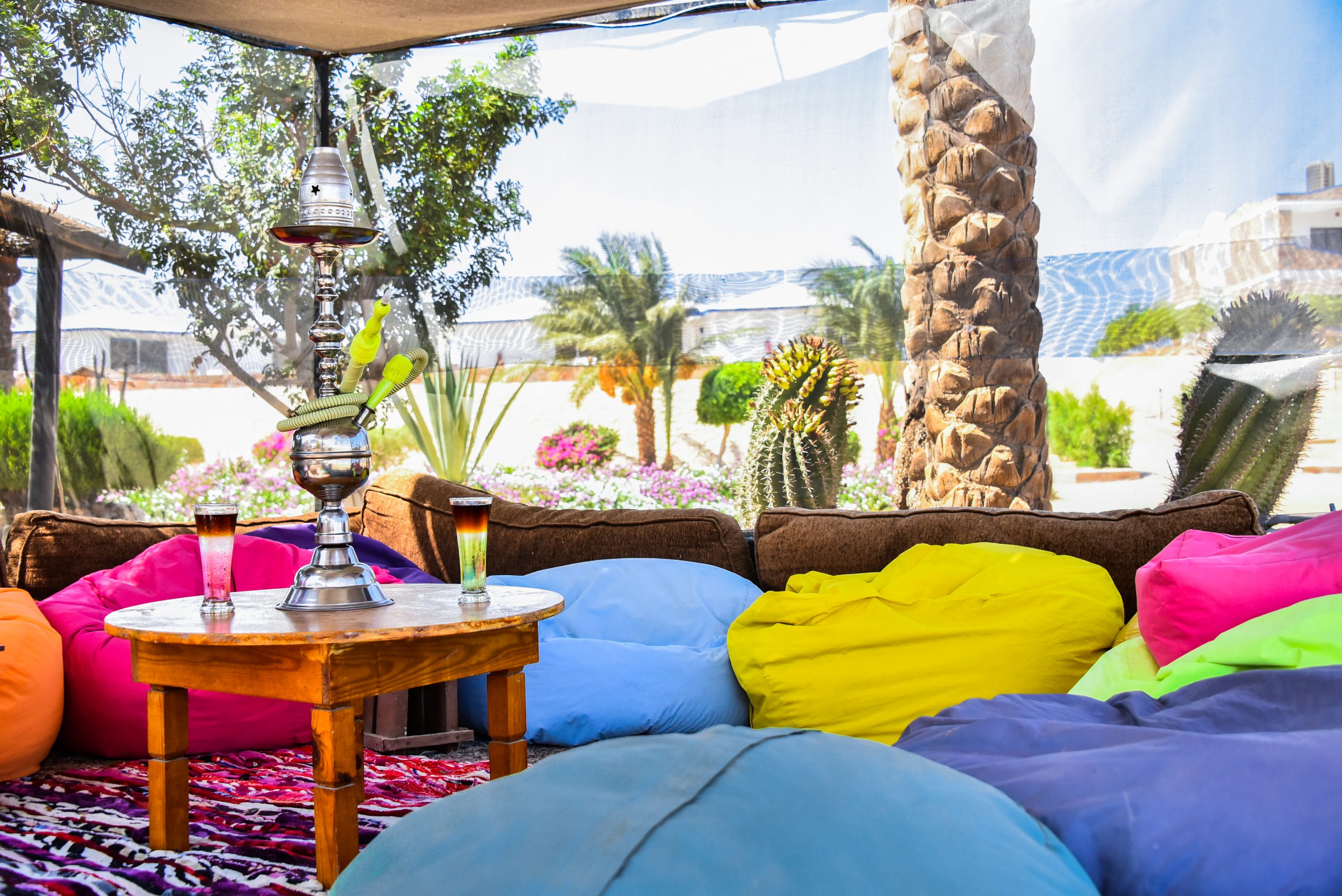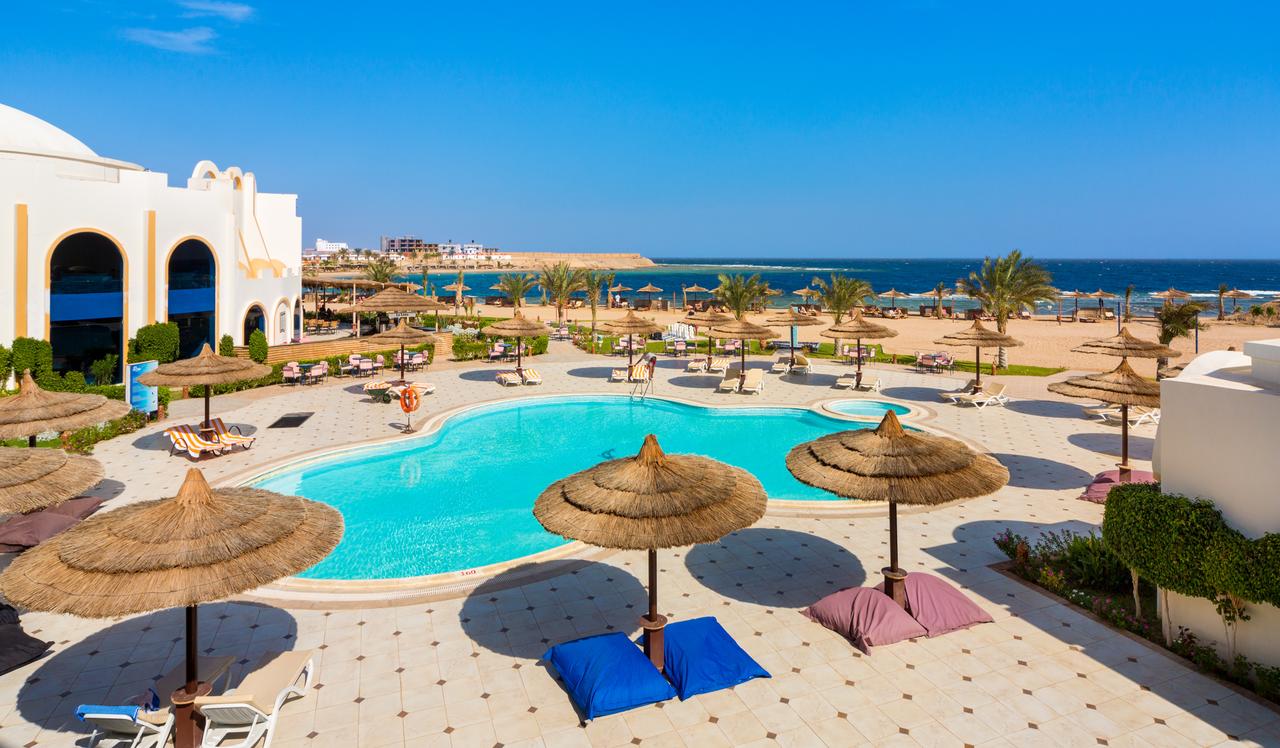 The brand new resort with private beach offers total of 110 rooms, the perfect backdrop for a relaxing and enjoyable dive holiday. In the elegant main restaurant with sea view, the three main meals are served buffet style.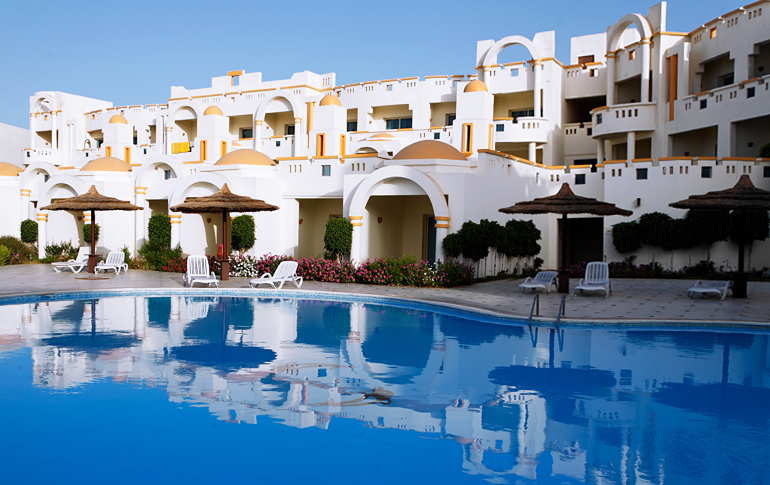 Description
An international and wellbalanced dining options provides variety and at the same time allows an insight into their specialties and oriental cuisine. The pool also in close location to the beach lures with sea views, lounge chairs and umbrellas. Another smaller pool in the garden is also ideal for those who want absolute peace. Those who prefer a little quirky, can drive a day many sports offered by the hotel, and / or enjoy the varied entertainment program with evening shows, live music and disco in full. Above all, families with small children can enjoy the Coral Sun Beach. In fact, special kids meals on the menu, kid-friendly meal times for families, a kids' club (3-8 years), a mini pool as baby-sitting service on request.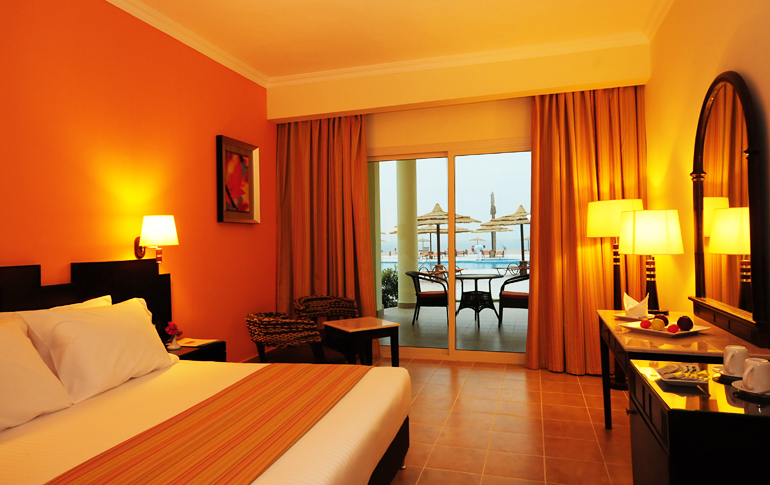 Booking & Offers
You have questions regarding your booking for dive packages and courses? Questions about our offers and ORCA Dive Clubs? Our service telephone is available from Monday – Friday from 11:00 to 18:00. Our office in Rosenheim can be reached at the following number: 08031 381 979
Bookings with ORCA Dive Clubs
Diving programs, dive packages, diving courses, rental equipment and snorkeling you can book with great pre-booking discount directly and online.
Booking offices
For a personal consultation and booking you can contact one of the below booking agent/tour operator/travel agency
ORCA Explorer Reisen
Innaustr. 11
83026 Rosenheim
Telefon: +49 8031 1885-0
Fax: +49 8031 1885-7222
URL:www.orca.de
E-Mail:info@orca.de
Tauchschule Dresden
Leipziger Str. 28
D-01127 Dresden
Tel. 0049 (0) 351 4162304
Fax 0049 (0) 351 4162332
URL:www.tauchschule-dresden.de
E-Mail:info@tauchschule-dresden.de
Schauinsland
Schauinsland-Reisen GmbH
Stresemannstr. 80
47051 Duisburg
Tel: 0049 (0) 203 / 99 40 5 – 0
URL:www.schauinsland-reisen.de
E-Mail:slr@schauinsland-reisen.de
Beluga Reisen
Sternstr, 19
37083 Göttingen
Tel: 0551/63451340
Fax: 0551/63451345
URL:www.belugareisen.de
E-Mail:info@belugareisen.de
SAMreisen
Friedrich-Rech-Strasse 268
56566 Neuwied
Tel: 0049 2631 9559-0
Fax: 0049 2631 9559-15
URL:www.samreisen.de
E-Mail: dialog@samreisen.de
sun+fun Sportreisen GmbH
Franz-Joseph-Str 43
80801 München
Tel: +49 89 20 80 76 162
Fax: +49 89 34 66 44
URL: www.sunandfun.com/tauchen
E-Mail: tauchen@sunandfun.com
light and blue GmbH
Pichlmayrstr.17a
83024 Rosenheim
Tel: 0049 (0) 8031 31992
Fax: 0049 (0) 8031 31991
URL:www.lightandblue.de
E-Mail:info@lightandblue.de
Travel Team GmbH & Co. KG & Action Sport Tauchreisen
Hersbrucker Str. 23
91244 Reichenschwand, Germany
Tel. +49 9151 726960
Fax +49 9151 7269633
URL: www.action-sport.de
URL: www.action-sport-tauchreisen.de
E-Mail: info@action-sport.de
Tauchreisen Weltweit und Meer
Waterloostr. 63
81746 München
Tel. +49 (0)89 260 6624
Fax. +49 (0)89 76701714
E-Mail:info@tauchreisen-weltweit.de
URL:www.tauchreisen-weltweit.de
sun+fun Sportreisen
Tel: 041-2020060
URL:www.sunandfun.de
E-Mail: anfrage@tauchreisen.de
About Diving AG
Zihlstrasse 80
CH-2560 Nidau
Tel. 0041 (0) 32 3253666
Fax 0041 (0) 32 3253669
URL:www.about-diving.com
E-Mail: info@about-diving.ch
Seleger SportsTravel
Hasenbühltr.25
8910 Affoltern a.A.
URL:www.seleger.ch
E-Mail: info@seleger.ch
sun+fun Sportreisen
Tel: 01-3151140
URL:www.sunandfun.de
E-Mail: anfrage@tauchreisen.de
Tropical Seas
Röntgenstrasse 5/1
AT 9500 Villach
Tel:0043 4242 230555
Fax: 0043 4242 23066
URL:www.tropical-seas.at
E-Mail: office@tropical-seas.at
Diving World
Bovendorpsstraat 7a
NL – 7038 CH Zeddam
Tel. 0031-314-653180
Fax 0031-314-653181
URL:www.divingworld.nl
E-Mail: info@divingworld.nl
SeaSee Travel BV
Herenstraat 29
3621 AP Breukelen
Tel: 0346 266 080
Fax: 0346 257 196
URL:www.seaseetravel.nl
E-Mail: info@seaseetravel.nl
Ultramarina
37 reu St.Leonard BP33221
F – 44032 Nantes
Tel. 0033-2-40893444
Fax 0033-2-40897489
URL:www.ultramarina.com
E-Mail: info@ultramarina.com
Diving Travel Network
Kungsgatan 8B
972 34 Lulea
Tel: 0046 920228589
URL:www.divingtravel.se
E-Mail: info@divingtravel.se
Trails – Wild Water
Steenweg Op Vilvoorde 359
1745 Opwijk
Tel: 0032(0)474471349
URL:www.wildwater.be
E-Mail: info@wildwater.be